Real talk: Receiving a Tony Award nomination for your portrayal of an animated sea sponge is the ultimate flex. And if we were Ethan Slater, we would never stop bragging about it. The über-talented Jewish American actor, singer and composer has been a familiar face in the theater world for years now, but his latest role in the highly anticipated "Wicked" movie is sure to propel him into an entirely new level of stardom. Though we typically don't include rumors in our 18 things articles (lashon hara is NOT welcome here!), we also can't ignore the fact that the internet practically exploded when several news outlets announced that Ethan is reportedly dating his "Wicked" costar Ariana Grande. The pop star definitely has a thing for talented Jewish guys (see: Mac Miller and Pete Davidson), so we wouldn't be totally shocked if those rumors are eventually confirmed.
While we were tragically unable to stalk Ethan Slater's Instagram account (he made it private shortly after the news broke), we were still able to dig up some info on the Broadway star. So in the words of SpongeBob SquarePants, "We're ready, we're ready, we're ready" to share 18 things about Ethan Slater!
1. Ethan was born to Jewish parents on June 2, 1992. That makes him a Gemini!
2. He was a Jewish day school kid! Ethan grew up in Silver Spring, Maryland and attended Charles E. Smith Jewish Day School, a private pluralistic JK-12 school in North Bethesda, and Georgetown Day School.
3. He was a wrestler in high school. Which totally checks out. I mean…have you SEEN those biceps?!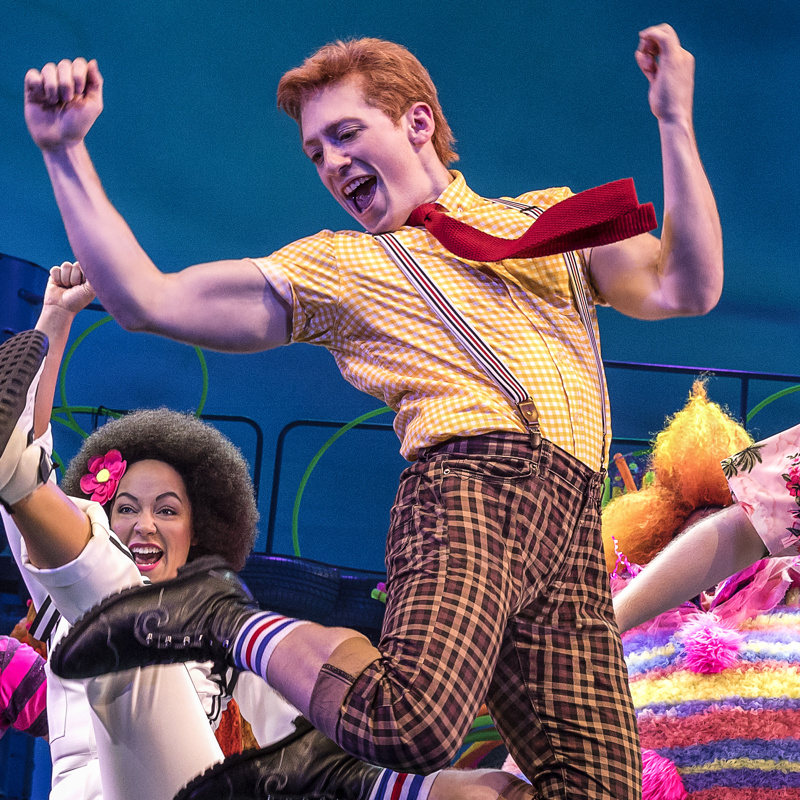 4. Ethan's one of three siblings. He has two older sisters, Sara and Tamara.
5. He's a graduate of Vassar College in Poughkeepsie, New York (and soon, Shiz University! #IYKYK).
6. As a creative, Ethan believes in "mining from personal experience." His concept album "Edge of the World" was largely the result of that approach. "When I was 7 years old, my mom died, and so that's been a really big, formative thing in my life. She had left this huge imprint on me, even though I had so few memories," shared Ethan in a 2021 interview. "And that's what happens to [my] character, Ben. He grows up not knowing his mom, being raised by a single dad, and yet the impact she has on his life and his life trajectory is immeasurable. So those are the two inspirational elements that came together."
Listen to the album here:
7. Ethan's favorite book is "Fates and Furies" by Lauren Groff.
8. He starred in an internationally award-winning comedy web show called "Redheads Anonymous!"
You can watch the full episodes here.
9. He's a dad! Ethan welcomed a son with former high school sweetheart Lilly Jay in August of 2022.
10. You can catch Ethan in an episode of "Law & Order: SVU." Just check out the 2018 episode entitled, "Revenge."
11. He also recently made an appearance as Steven in the final season of "The Marvelous Mrs. Maisel."
12. Ethan joined "SpongeBob Squarepants: The Musical" when he was just a teen. "I started working on [the show] when I was 19, and it was seven years of development—from starting development until closing on Broadway. So it was like my full education, which is awesome. We approached it from this perspective… that this isn't a show that is talking down to kids. This is a show that is funny; it's funny, it's visually stimulating, it's physical humor. Kids like it because it taps into this optimism and heart; and adults like it because it taps into things they remember from their childhood."
13. All that hard work clearly paid off, as his portrayal of SpongeBob earned him a Tony award nomination in 2018! And while he didn't end up winning that year, he did receive the prestigious Drama Desk Award.
14. He's a huge Paul Simon fan and grew up listening to "Graceland."
15. Ethan has been super vocal about the importance of inclusivity in the theater world: "I think massive change needs to happen to make sure that Broadway is a more inclusive space in terms of the diversity of people and the diversity of stories that are given the opportunities. I'm trying to stay as active as possible and listening to people who are doing a lot of this work and trying to amplify and support it."
16. His guilty pleasure movie? "A League of Their Own."
17. And his favorite musical is "Jesus Christ Superstar." TBH, I'm more of a "Joseph and the Amazing Technicolor Dreamcoat" girl myself, but literally no one asked.
18. Ethan is starring in the upcoming "Wicked" movie! In December of 2022, it was announced that Ethan would play the munchkin Boq in Jon M. Chu's film adaptation of Jewish composer Stephen Schwartz's hit musical. The stage show has historically showcased the talents of a variety of Jewish actors, including that of Idina Menzel, Joel Grey, Shoshana Bean and Talia Suskauer.
Here is a leaked photo of Ethan on set (he's the ginger in the school uniform behind Galinda, aka Ms. Grande):
Ethan, we're counting down the days 'til we get to see you on the big screen.