Makeup and beauty products can be whatever you want them to be: a feeling, a creative outlet, war paint, part of a regular morning routine, or just basic hygiene. For me, they're all of these things, but also Jewish. Really, everything I do is Jewish because I am, but that point aside, you may be using Jewish beauty products without even knowing it.
The beauty industry we have today is partly due to these seven amazing Jews.
1. Helena Rubinstein (born Chaja Rubinstein)
Born in Krakow, Poland in 1872, Rubenstein fled to Australia to avoid an arranged marriage before eventually ending up in New York City in 1915. In Australia, she sold locals pots of her mother's beauty cream from her suitcase. The cream was so popular that a wealthy Australian woman loaned Rubinstein the money to open a shop in Melbourne and create larger amounts of cream, which she later experimented and improved upon. The business, Salon de Beauté Valaze, boomed, so she sent for her sisters in Poland to immigrate to Australia and assist her.
Eventually she married — but not before opening a location of her shop in London, followed by a move to Paris. The break out of World War I caused her to bring her family to NYC, where she opened another salon, the first of many throughout the U.S. Her international enterprise, Helena Rubinstein, Inc., is now a part of L'Oreal cosmetics. She was also portrayed by (Queen) Patti LuPone in the musical War Paint.
2. Burt Shavitz (born Ingram Berg Shavitz)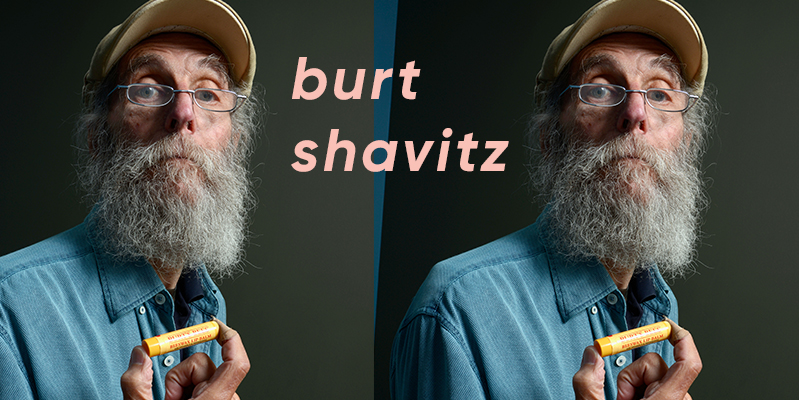 You know the famous face on your favorite chapstick? That's Burt Shavitz, the Burt of Burt's Bees! He was born to a Jewish family in New York in 1935 and grew up on Long Island. Before he became famous for his bees, Shavitz served in the U.S. army. Later, he worked as a photographer — his first job was at a Jewish paper! — and his work focused on activism (his work was featured in Life and Time magazines).
In the 1970s, he moved to Maine, where Shavitz started beekeeping. He began a honey business and sold beeswax for candle making. This candle business began his tumultuous relationship with business partner Roxanne Quimby, who ended up buying him out in 1999 (there was a lot of drama). The company entered the beauty industry by following recipes from old beekeeping books for homemade personal care products. In 2017, Burt's Bees launched its first makeup line (which is also cruelty-free!).
3. Estée Lauder (born Josephine Esther Mentzer)
Lauder was born in 1906 to a Hungarian immigrant family in New York City; her mother was Catholic and her father Jewish (the family identified as Jewish). She became an apprentice of her uncle in his chemical laboratory, New Way Laboratories, where they created and sold beauty products. In the lab, she would chemically improve creams. She said of her uncle, "He captured my imagination and interest as no one else ever had."
In 1946, Lauder started Estée Lauder Cosmetics to sell the products she developed. At first, they only sold four products: cleansing oil, skin lotion, all purpose crème, and a crème pack. Within two years, her products were being sold at Saks Fifth Avenue. She went on to create a beauty empire that now includes Estée Lauder's main line, Clinique, Aramis, Lauder for Men, and Prescriptives.
4. Charles & Jospeh Revson
These Jewish brothers from Somerville, Massachusets teamed up with chemist Charles Lachman to found Revlon in 1932. (They used their last name, Revson, but swapped the "s" for the "l" in Lachman.) When they launched, they had a single product: a new nail polish, which used pigments instead of dyes. By 1940, they had a range of different colors. Charles Revson lead the company until his death in 1975.
5. Suzi Weiss-Fischmann
And while we're on the subject of nail polish, Suzi Weiss-Fischmann founded OPI with her brother-in-law George Schaeffer in the mid-1980s. The nail company is known for their amazing nail polish names. "The names were such a huge part of the brand's DNA," she explained. Weiss-Fischmann is the daughter of Holocaust survivors, and she's spoken about how her Jewish heritage influences her leadership.
6. Poppy King
King, born to a Jewish Australian family in 1972, started her own cosmetic line, Poppy Industries, in 1991 at age 18. Within three years, it became one of the biggest beauty companies in her native Australia. Sadly, in 1999, the company collapsed after expanding into the U.S. and dissolved in 2002. But Poppy King did not give up!
She tried again by launching the brand Lipstick Queen in 2006 and promoted the products along with a more democratic and modern approach to beauty. The Jewish Women's Archive explains that she called herself "the only one in the beauty industry with 'such a Semitic profile,' [and] that "as a Jewish woman, there is a real flair for glamor, and my approach is very spirited." Lipstick Queen is well-known for their color changing lipsticks.
7. Bobbi Brown
As a makeup artist, Bobbi Brown first entered the beauty industry in the '80s after being frustrated with the lack of wearable lipstick shades on the market for her clients. In an interview, Brown describes a moment on a book tour she will never forget when an older woman asked her if she was Jewish:
"I said, 'I am.'
'I'm so proud of you,' she said. 'You've done so much, and I've even seen you on The Today Show. Is there anything else you'd want to do?'
I had no idea. I was exhausted, and I had two little kids at home, but I said, 'Well, I'd like to be a regular on The Today Show.'
'Honey,' she said, 'My grandson is Jeff Zucker.'
That was Friday. Monday, I was on the show."
(That may be the best case of Jewish geography to ever occur!)
According to Brown, "makeup is a way for a woman to look and feel like herself, only prettier and more confident." In 2013, she founded the non-profit Pretty Powerful for Girls and Women, which launches a new product every year from which every cent of its sales goes to support programs for girls and women around the globe. A feminist queen!
Images: Helena Rubinstein by Hulton Archive/Getty Images; Burt Shavitz by Larry Busacca/Getty Images; Estée Lauder via Estée Lauder Archives; Charles Revson by AFP/AFP/Getty Images; Suzi Weiss-Fischmann courtesy OPI; Poppy King by Astrid Stawiarz/Getty Images for QVC; Bobbi Brown courtesy Chronicle Books; and watercolor of beauty products in header via Charles Harker/Getty Images.