Fruits crisps are my go-to homemade dessert. They're almost foolproof to make, comforting to eat, and they fill your home with that ideal smell of sweetness and spice. If you're hosting Shabbat, holiday meal, or any old dinner party, and you have a full-time job and a busy schedule, this is also an ideal recipe. You can find a window of time on a weekend or after work, make the crisp, freeze it immediately, and wait until the day you're hosting to put it in the oven. Best of all, this recipe is flexible—it can easily be made vegan and gluten-free.
In the spirit of the High Holidays, this crisp is made with apples and honey for a sweet New Year, and bourbon for a fun New Year. They're complementary flavors that give the classic apple filling that extra depth of flavor. And who doesn't want to start the year off with extra depth?
Enjoy this warm with a room full of people, or the next day for breakfast eaten directly out of the baking dish… if you have any leftovers.
Apples & Honey Bourbon Crisp
Serves 12, recipe can be halved
Crisp topping:
2 cups all purpose flour (or gluten free flour)
1 cup rolled oats
½ cup sugar
½ cup light brown sugar
1 teaspoon ground cinnamon
¼ teaspoon ground nutmeg
1 cup cold unsalted butter (2 sticks), margarine, or coconut oil
Big pinch of salt
Apple filling:
4 lbs apples (Granny Smith, Honeycrisp, or any apple that is firm, tart, and sweet)
Zest and juice of ½ a lemon
¼ cup honey
2 tablespoons light brown sugar
3 tablespoons all purpose flour (or gluten free flour)
¼ cup Bourbon
¼ cup apple cider or water
For serving:
Whipped cream or ice cream, if desired
Directions:
Preheat the oven to 375°F.
For the crisp:
In a bowl, combine the flour, oats, sugar, brown sugar, cinnamon, and nutmeg.
Cube the butter or margarine. If using coconut oil make sure that it is solid—you can place it in the fridge to firm.
Using your hands or a pastry cutter, incorporate the cubed butter into the dry ingredients until you end up with a pea-sized coarse meal that easily sticks together when you press it.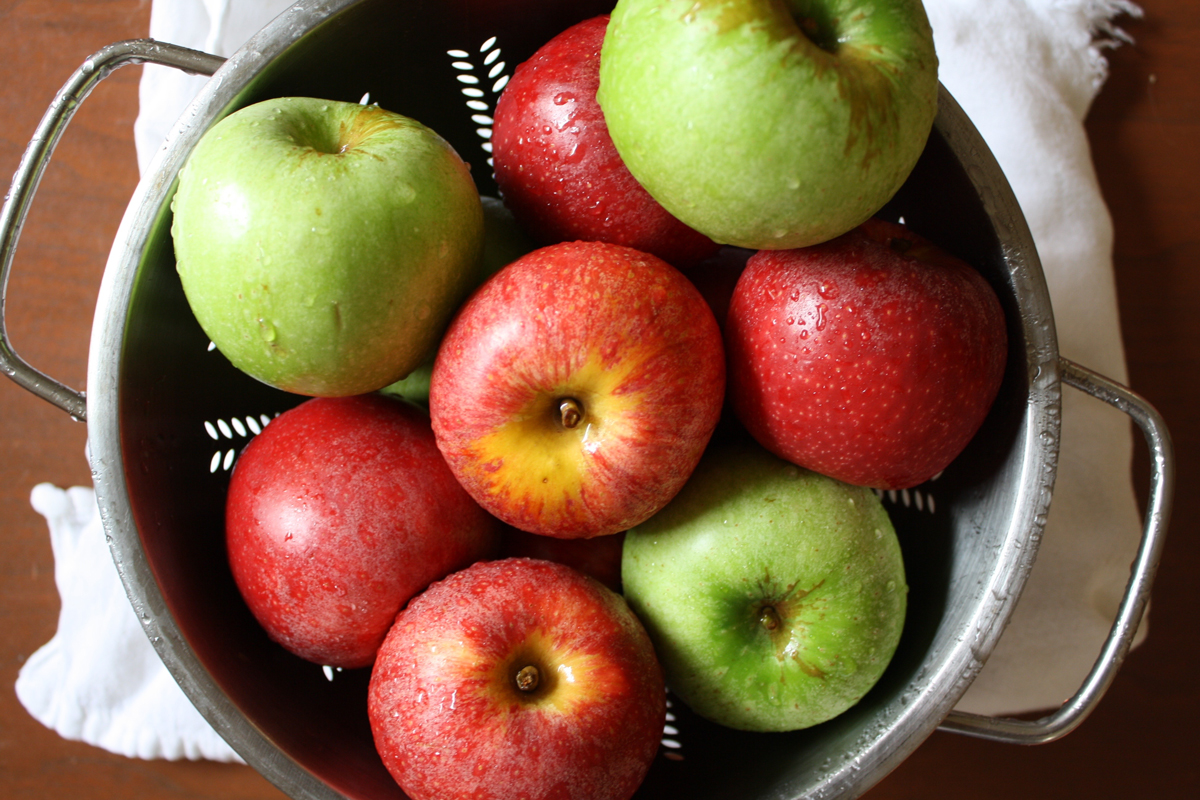 For the filling:
Peel and core the apples. Cube or slice them into even-sized pieces.
In a large bowl, combine the apples, lemon zest, lemon juice, honey, brown sugar, flour, bourbon, and apple cider/water. Lightly toss until everything is combined.
Grease the bottom of a deep 9 x 13 casserole baking dish; or you can split this into two 8 x 8 baking dishes. Transfer the apple mixture to the baking dish. Top the apples evenly with the crisp topping. If you are making this dish in advance, you can either refrigerate the crisp for up to 24 hours, or freeze the crisp up to 2 weeks before you're ready to bake it.
Bake the apple crisp for 50-60 minutes, until the apples are bubbly and soft when pierced with a knife, and the top is browned and crisp. Allow the crisp to cool on a wire rack at least 30 minutes before serving. The crisp can be served warm or at room temp.
Serve the crisp with a dollop of fresh whipped cream or a scoop of ice cream.