The fate of the three major stars of The Parent Trap (1998) is pretty common knowledge: Dennis Quaid is still a sexy dad/actor/more responsible Quaid brother; Natasha Richardson tragically died in a skiing accident in 2009; and Lindsay Lohan is just living a drama-free life as an international business woman. But what of the others, you ask? We tracked them down, just for you.
Meredith Blake: Iconic. Evil. Young and beautiful. There are too many words to spill about Meredith Blake. Let's just say nobody could rock a camping crop-top quite like her.
Where is she now: Elaine Hendrix has continued acting, including a major role in the TV series Sex & Drugs & Rock & Roll alongside Denis Leary, a guest appearance on Transparent in which she plays a very rude mother in a bathroom, and a role in the upcoming movie Burying Yasmeen. She's also a huge animal rights activist, a proud vegan, and a dog and cat mom. I'm happy to report Hendrix does not shy away from her most well-known role, often posting Parent Trap memes and #tbts, giving the people what we want.
Chessy: I feel a little uneasy calling Chessy a minor character because without her — the best nanny ever with that signature open button-down style — what would this movie even be? She's clearly the only reason Nick Parker is a functioning adult. When she realizes that who she thought was Hallie is actually Annie and cry-says, "Can I hug her?" it is the moment that makes me tear up the most while watching this film as a grown adult.
Where is she now: Lisa Ann Walter has continued acting since her Parent Trap days, with roles in Bruce Almighty, Shall We Dance, and a guest appearance on GLOW. She posts Parent Trap memes on Instagram, her Twitter cover photo is a screenshot from the film, and she still hangs out with Meredith Blake, I mean Elaine Hendrix, whom she refers to as her #bff (omgomg):
Martin: The beauty of Martin, the James' butler (because all British people have butlers, obvs) is in his complexity: He's proper and refined, sure, but he can also bust loose with a leather jacket and Speedo, and cry like a baby when he finds out that he's been spending time with Hallie. And let us not overlook his epic secret handshake with Annie.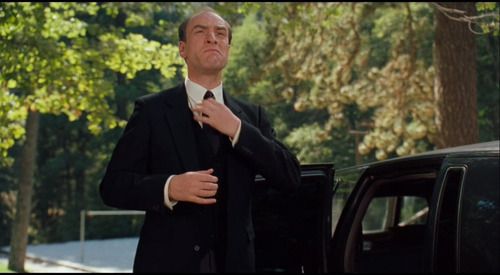 Where is he now: Simon Kunz is a British actor of stage and screen. He played the lead character in the BBC America/Netflix show The Last Kingdom, appeared in Captain America: The First Avenger, and seems to be currently filming for a TV series called Jerusalem. I wasn't able to find him anywhere on social media and personal life details are hard to come by, so I guess I'll just spend the rest of my life assuming he is exactly the same person as Martin the butler. Cool.
Tie Dye Girl: Hallie Parker made fast friends with Tie Dye Girl (did she have a real name? I can't remember! But it doesn't matter because you know exactly who I'm talking about) after witnessing her expert skills at pulling her duffel bag out of the pile of campers' luggage, excitedly stating, "Now that's my kind of woman." Same.
Where is she now: Courtney Woods is a blogger and mother of three based outside of Philly. She runs the website (and Instagram account) Rose & Marigold, where she posts updates about her incredibly cute kids, recipes, giveaways, and life with PCOS. She also has Very Good Hair:
On her role in The Parent Trap, Courtney has written, "When I was a child I wanted to be an actress. I was in a few commercials and played Tie Dye Girl in The Parent Trap. I was teased about it most of my life so I never really bring it up but now that i'm older I can honestly say that was probably the coolest experience ever." Who are these monsters who teased her about being the most badass girl at Camp Walden? For SHAME!
Lost Boy at Camp: One of the first scenes we see at camp is a very alarmed young man who's been misled to believe that Camp Walden is a camp for boys, not girls. Later, he embarrassingly loses a fencing match to Hallie Parker (I think that joke here is that a boy lost to a girl!! SO funny!) and says, "Touché," which is definitely how I learned what the word touché means.
Where is he now: Prepare for your mind to be blown, y'all. Lost Boy at Camp is none other than Lindsay Lohan's little brother, Michael Jr. According to his Wikipedia, Michael Lohan Jr. is a business man. He married longtime girlfriend Nina Ginsberg last year (Lindsay was not in attendance because she was working on a secret project). He launched a shopping app called Vigme in 2014 and is widely considered the most responsible Lohan. Here he is, all the way on the left:
Marva Kulp, Sr.: Marva Sr. is the gray-haired director of Camp Walden, with a penchant for megaphones and saying "Arapaho" in a delightfully sing-song manner. Her disciplinarian tactics are a bit suspect (sticking two feuding campers into an "isolation cabin" with no supervision or contact with the outside seems like maybe not so smart) but if you were covered in chocolate syrup and feathers by said campers, you might make the same move.
Where is she now: Polly Holliday, who is perhaps best known for her role as the waitress Flo in the sitcom Alice, is now 81 years old and appears to be retired. Her last role was in the 2010 thriller Fair Game. Suffice it to say, she is not on social media and personal details are scarce. Here she is in 2003:
Marva Kulp, Jr.: What's better than one Marva? Two Marvas. Especially when they work as well together as this mother-daughter duo who seem to run the entire camp themselves because there aren't actually any counselors at this camp??? Anyway, Marva Jr. will always hold a special place in my heart solely for the totally 90s hand movement she makes when sending the twins off to the isolation cabin (which, again, is a Very Bad Idea).
Where is she now: You guys realize that Marva Jr. is played by Maggie Wheeler, AKA Janice from Friends, right? She's almost unrecognizable without that signature voice and "oh my gawds" but alas, it's true. Wheeler is still acting, with a recurring roles in shows such as Archer, Shameless, and Californication. But her real passion is singing — she's the founder and director of the Golden Bridge Community Choir, which is a non-auditioned inter-generational choir based out of Los Angeles. Wheeler, who is Jewish (FYI), is married and has two daughters.
Vicki Blake: Meredith Blake's mother is responsible for arguably the creepiest line in The Parent Trap, in which, upon meeting Hallie (or is it Annie?), she says, "Hello, pet. You may call me Aunt Vicki." She also doesn't seem fazed by the fact that her daughter is marrying somebody she met less than two months ago, and that the wedding is in two weeks yet they still don't have a venue or a dress.
Where is she now: Welcome to the super fun fact portion of this article, where I tell you that Joanna Barnes, who played Vicki Blake in the 1998 Parent Trap, played Vicki Robinson in the original 1961 Parent Trap, i.e. she was the original evil-almost-step-mother. WOW. The second Parent Trap was her second to last acting role, and she is currently 83 years old. I can't find any recent photos of her, but here she is in the original Parent Trap:
Grandfather: Of course I feel bad that Hallie Parker grew up without her mother, but I feel very bad that she grew up without her exquisitely pleasant grandfather, Grandfather. After all, he smells of peppermint and pipe tobacco, can always be found reading the newspaper, and is incredibly understanding when he finds out about the twins' hi-jinx.
Where is he now: This one hurts a lot. A lot, a lot. The Parent Trap was British actor Ronnie Stevens' last acting role, and he passed away in 2006 at the age of 81. May his memory be for a blessing 😭
Parent Trap Week is an entire week dedicated to the 1998 iconic film, in honor of its 20th anniversary. See all the posts here.