It's officially the most colorful time of the year — pride month! Which means it's the perfect time to spotlight some of our favorite queer Jews who have made a lasting impact on the LGBTQ community and world at large.
From Gaby Dunn and King Princess to Ben Platt and Troye Sivan, we've written extensively about queer Jewish icons we admire in pop culture. But now, I'm going to give you a brief history lesson about 14 badass LGBTQIA+ Jews who changed queer history forever. Get your notebooks and number 2 pencils out!
1. Betty Berzon (1928-2006)
First up is badass Betty Berzon who is famously known for being one of the first psychotherapists to treat gay and lesbian patients. After suppressing her homosexuality for the majority of her life, at 40, Berzon came out privately as a lesbian. A few years after that, the trailblazer publicly announced her sexuality at a conference called "Homosexual in America," making her the first psychotherapist in the States to come out as gay. It was a huge deal because at the time, homosexuality was still considered a disease by the American Psychoanalytic Association. But, just two years after our girl Berzon bravely shared her identity, the APA declassified homosexuality as a mental illness. Fuck yeah!
With Terry DeCrescenzo, her life long partner, by her side, Berzon founded what's now known as the Society for the Psychological Study of Lesbian, Gay, Bisexual and Transgender Issues. She wrote several books including a memoir, Surviving Madness, a Therapist's Own Story, and Permanent Partners: Building Gay and Lesbian Relationships, which the LA Times says has been referred to "as a how-to manual for same-sex couples trying to stay together."
Berzon was a beacon of the gay community in Los Angeles and fought against prejudice until her death. Five years before she died from cancer at the age of 78, Berzon was admitted to a hospital. When she was asked if she was single, married, or divorced, Berzon said, "None of the above, I've lived with a woman for 29 years." Because this response held up the admissions process in 2001, a box for "domestic partner" has since been added to hospital forms.
2. Fritz Klein (1932-2006)
Oh man, this unassuming bisexual icon is super interesting. Dr. Fritz Klein was born to an Orthodox family in 1932 and, after fleeing anti-Semitism in Vienna to the safe haven of New York, earned his medical degree in 1961 and began breaking ground in the bisexual community.
Klein was basically the Jewish Alfred Kinsey, AKA the Father of Human Sexuality. When the bicon (bisexual icon) realized there was a huge gap in research on bisexuality, the Jewish doctor got to work and placed an ad in the Village Voice which led to the creation of the Bisexual Forum, the first ever social support group for bisexuals. Building on Kinsey's infamous Kinsey Scale, Klein invented his legacy, the Klein Sexual Orientation Grid, to describe complex sexual orientations such as his own. "It became obvious after a while that sexual orientation is more complicated than Kinsey's Scale," he told BiMagazine. Klein said his place on the grid was bi-gay, which was closer to homosexuality than heterosexuality. Though he had at least two romantic relationships with women, his life partner was Mr. Tom Reise.
Most impressively, in 1998 Klein founded the Journal of Bisexuality and the American Institute of Bisexuality, a public benefit charity that supports research and education about bisexuality. He served as Chairman of the Board until 2006, when he died at 73 from cardiac arrest. The medical mensch that he was, and so devoted to furthering research, Klein donated his body to science.
3. Jazz Jennings (2000-present)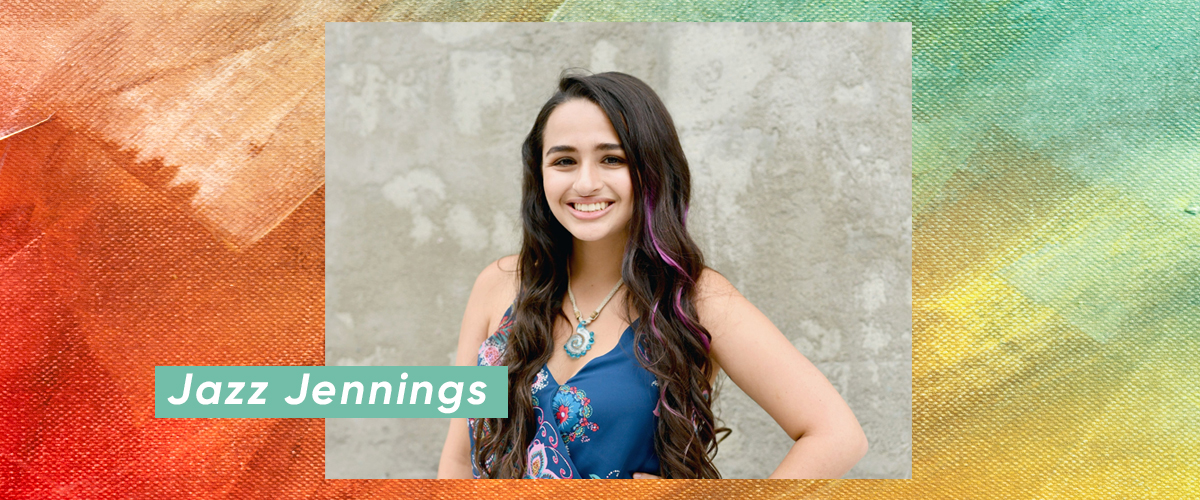 At the age of 5, the illustrious Jazz Jennings become one of the youngest people to publicly come out as transgender. A YouTube personality, LGBTQ+ rights activist, and author, Jennings is a powerhouse that never ceases to amaze the Jewish — and non-Jewish — queer community.
Just a couple years after she came out as transgender, Jenning's supportive family founded TransKids Purple Rainbow Foundation to help transgender children. When she was 14, Jennings published her first children's book, I Am Jazz, and among a myriad of other accomplishments she starred in I Am Jazz, a reality series that currently airs on TLC.
A self described pansexual, Jennings published her second book, Being Jazz: My Life as a (Transgender) Teen, in 2016, and a year later she worked with the Tonner Doll Company to create the first transgender doll. She's accomplished so much in such little time, I can't wait to see what's to come for this groundbreaking Jewish transgender activist.
4. Lesely Gore (1946-2015)
One of my favorite songs to sing out of tune with my mom is Jewish singer Lesley Gore's "You Don't Own Me." But before working at Alma, I honestly had no idea who Gore was, and now that I do, I'm so proud that she's part of the Tribe.
You might know Leslie Sue Goldstein — how did I not know she was Jewish?? — from her hit song "It's My Party (And I'll Cry If I Want To)" that made her a teen idol at 16. But let's go back to Gore's "You Don't Own Me" (1963) and talk about how it became a second-wave feminist theme song. When it came out, Gore's fans saw a different side of her, one that was confident, independent, and totally feminist. "It was an anthem of self-worth that helped usher in the second wave feminist movement and inspired women to realize that they didn't have to be put on display," writes Amy Salitsky. "The song was a declaration of independence and a bit of respite in a male-dominated world."
Gore didn't come out as gay until 2005 while hosting the PBS LBGTQ+ series Into the Light. She said that the music industry was extremely homophobic, but she never felt the need to pretend she was heterosexual. "I just kind of lived life naturally and did what I wanted to do," she said. "I didn't avoid anything, I didn't put it in anybody's face." Humble and kind, Gore passed away at age 68 from cancer, and left her long-time partner Lois Sasson and a lasting impact on queer history behind.
5. Harvey Milk (1930-1978)
I would be remiss not to include Harvey Milk and his tragic but inspiring story on this list.
With his grandfather having founded the first synagogue in his Long Island town, the late gay politician was destined for greatness. Known as the "Mayor of Castro" in San Francisco for his activism, in 1977 Milk became the first ever openly gay man to be elected to a major public office in America. It took him three times to win the seat as City Supervisor, and his triumph earned him recognition as a global icon for gay rights. Way ahead of his time, Milk supported legalizing marijuana and civil rights — needless to say, he would've had my vote.
While in office, Milk passed a law that banned discrimination in public accommodations, housing, and employment on the basis of sexual orientation. Not only that, he also co-sponsored a "pooper-scooper" ruling that required dog owners to clean up their pet's waste (honestly, thank you). With much work left to be done, the Jewish hero was martyrized just 11 months into his first year in office. In 1978, Milk, 48, was assassinated by Dan White, a former city supervisor. His term was short lived, but Milk's dedication to his community and fight for social justice made him "the most famous and most significantly open LGBT official ever elected in the United States."
6. Claude Cahun (1894-1954)
Born to a prominent Jewish French family in 1894, Claude Cahun was a genderqueer and Surrealist art icon. Their fame came posthumously, but Cahun never wanted to be in the spotlight anyway. A photographer, writer, sculptor, and activist, the Jewish artist was way ahead of their time by adopting their gender-ambiguous name in 1917. In Disavowals, Cahun's autobiography, they explained their fluid identity: "Masculine? Feminine? It depends on the situation. Neuter is the only gender that always suits me."
Cahun first dabbled in self-portraits that explored gender identity and the subconscious mind as a teen, and when they moved to Paris with their longtime lover, fellow artist, and step-sister (I know, I know) Marcel Moore, they broke into the Surrealist art scene. In the 1930s, Cahun and Moore moved to Jersey, an island off the coast Normandy, and used their artistic talents to fight anti-Semitism and injustice. Posing as non-Jews, the lovers were imprisoned and sentenced to death for distributing anti-Nazi propaganda. Though Jersey was liberated from the Nazi regime a year after they were arrested in 1945, Cahun's maltreatment in prison led to their untimely death in 1954.
7. Rabbi Allen Bennett (1946-present)
Rabbi Allen Bennett, 73, born Allen Blumenstein in Ohio, was the first openly gay rabbi in the United States. Though he knew of his homosexuality as a teen, Bennett didn't go public with his sexual orientation until the late '70s. Interestingly, while in his role as rabbi at Congregation Sha'ar Zahav, Bennett officiated the late Harvey Milk's funeral. It was at the funeral in San Francisco where he met his life long partner Stephen, who was the sign language interpreter at the ceremony (best/saddest meet cute ever?).
8. Rabbi Stacy Offner (unknown-present)
And then we have Rabbi Stacy Offner, the first openly lesbian rabbi to serve in a mainstream Jewish congregation. In 1988, Shir Tikvah Congregation of Minneapolis welcomed Offner into their community, paving the way for many women rabbis to come.
9. Rabbi Sandra Lawson (unknown – present)
Rabbi Sandra Lawson is incredibly cool. Just last year in 2018 she made history by becoming one of the first openly gay, female, black rabbi in the world — triple threat! Not only is she a trailblazing Jewish person of color, before becoming a religious icon she served in the army and started a personal training business.
Interestingly, Lawson, raised in a Christian household, discovered Judaism in the early 2000s while she was training her client, Rabbi Joshua Lesser. Through sweat and tears, the pair became friends and Lesser invited his badass trainer to visit his synagogue. Lawson "fell in love with his synagogue," she told Whyy. "It was a safe place to be queer." Obviously, she ultimately converted to Judaism.
Almost a decade ago, Lawson became the first black, openly gay student accepted into the Reconstructionist Rabbinical College. She was hired by Elon University the year she was ordained as a rabbi in 2018, and through her efforts of teaching through social media, she's been described as "Snapchat's Top Rabbi." What a freaking cool cat.
10. Magnus Hirschfeld (1868-1935)
Discovering Jewish sexologist Magnus Hirschfeld — "the Einstein of sex" — and his contributions to queer history blew me out of the water. Way ahead of his time, the German doctor, born in 1868, is revered for changing the way Germans, and the world, understand human sexuality.
Hirschfeld was motivated to study homosexuality after a traumatizing lecture he sat through in medical school where a gay man who was imprisoned for his sexuality was brought to the classroom. Disturbed by his country's attitude towards homosexuality, he wrote a pamphlet calling for the decriminalization of gay sex in Germany. Realizing he could do even more, in 1897 the German doctor founded the Scientific Humanitarian Committee (SHC) which is characterized as having carried out "the first advocacy for homosexual and transgender rights." In 1919, he established the Institute for Sexual Science (ISS) with the funds he was paid to perform one of the first gender reassignment operations in the world.
While lecturing in the States in 1933, Nazi stormtroopers destroyed ISS. Hirschfeld was essentially kicked out of Germany when the Nazis denounced him as one of the country's biggest "Jewish criminals." The gay Jewish doctor fled to the south of France and died of a stroke in 1935.
11. Barbra Casbar Siperstein (1942-2019)
Known as "Babs" — not to be confused with Barbra Streisand — New Jersey native Barbra Casbar Siperstein was the first openly transgender member of the Democratic National Committee. The politician recently passed away in February, and just two days before her death, the "Babs Siperstein Law," which allows New Jersey residents to amend their gender identity on their birth certificates, was passed into law.
12. Leslie Feinberg (1949-2014)
Leslie Feinberg, the notorious late butch lesbian, author, and transgender activist, was a gender-noncomforing person who greatly impacted queer history. Born in 1949 to a working-class Jewish family who did not accept Leslie's sexuality, Feinberg's books, Stone Butch Blues and Transgender Warriors, laid the groundwork for bringing the gender-inclusive pronouns "ze" and "hir" to the mainstream. "I care which pronoun is used, but people have been respectful to me with the wrong pronoun and disrespectful with the right one," ze said. "It matters whether someone is using the pronouns as a bigot, or if they are trying to demonstrate respect."
13. Edie Windsor (1929-2017)
No list of impactful queer Jews would be complete without Edie Windsor. The child of Russian Jewish immigrants, Edie Windsor was a total trailblazer when it comes to gay marriage rights. (She was also kind of a cougar, having married her third partner Judith Kasen, then 52, at the age of 87. Get it!)
In 2010, the lesbian LGBTQ+ rights activist, who also happened to be a technology manager at IBM, successfully sued the United States for denying marriage equality to same-sex couples. As the lead plaintiff in United States v. Windsor, the Jewish lesbian's greatest legacy was overturning Section 3 of the Defense of Marriage Act (DOMA), which allowed states to refuse to acknowledge same-sex marriages as legally binding. Because of Windsor, DOMA was declared unconstitutional "as a deprivation of the liberty of the person protected by the Fifth Amendment."
14. Abby Stein (1991 – present)
Abby Chava Stein made waves in the Hasidic community when she came out as transgender in 2015. The sixth child in a clan of 13 siblings, Stein has been ostracized from her parents and the Ultra-Orthodox community she was raised in.
Before coming out, Stein was ordained as a rabbi (making her the first women to be ordained as a rabbi by an Ultra-Orthodox institution). The same year she came out as transgender, Stein founded the first support group for trans people with an Orthodox background. Although she hasn't worked as a rabbi since 2016, Stein remains active in the Jewish community and joined the Women's March leadership as a member of the 2019 Steering Committee. Stay tuned for her first book, Becoming Eve: My Journey From Ultra Orthodox Rabbi to Transgender, coming this fall.