In the summer of 2004, I fell in love twice over. First, with U.S. women's soccer player Mia Hamm, and second, with women's soccer. Yes, watching the Athens Olympics at 7 years old, I became completely enamored with the sport of soccer (so much so that I was inspired to play soccer for about 10 years of my life). But truthfully, that love has always been ancillary to deep, nearly tearful pride I felt and continue to feel when watching female and queer stars like Megan Rapinoe, Marta, Sam Kerr, Quinn and Wendie Renard take the pitch and remind us that the women's game is just as good, if not better, than the men's.
As a Jewish soccer lover, I only have one qualm about women's soccer: I wish there were more Jewish players! Especially on my beloved United States Women's National Team. In 2021, when defender Emily Fox first began playing for the USWNT, I excitedly reached out to Aaron Heifetz, the team's press officer, to inquire about whether she was Jewish. ("Perhaps she could be related to Adam Fox, Jewish hockey star for the New York Rangers," I naively thought.)
"Sadly, she is not Jewish. At this time, we don't have any Jewish players," Heiftez wrote back quickly, adding, "Hopefully in the future."
Thank you for your solidarity, Aaron.
Still, a lack of Jews on the USWNT hasn't dampened my love for the game. Nor did it hamper my ability to celebrate "the American outlaws" on their fourth World Cup win in 2019 and cheer them on at this year's World Cup, feeling excitement in watching all the female and queer athletes play — and finding Jewishness in the game wherever I can.
And even though this year's Women's World Cup features no known Jewish players, there will be some Jewish voices and faces in the stands. Read on for the Jewish Telegraphic Agency's Jewish guide to the 2023 Women's World Cup, which started July 20 and concludes August 20.
And if you're a Jewish sports fan, be sure to sign up for JTA's Jewish Sport Report to get the latest on all things Jews in sports.
— Evelyn Frick, Hey Alma Associate Editor
Are there any Jewish players?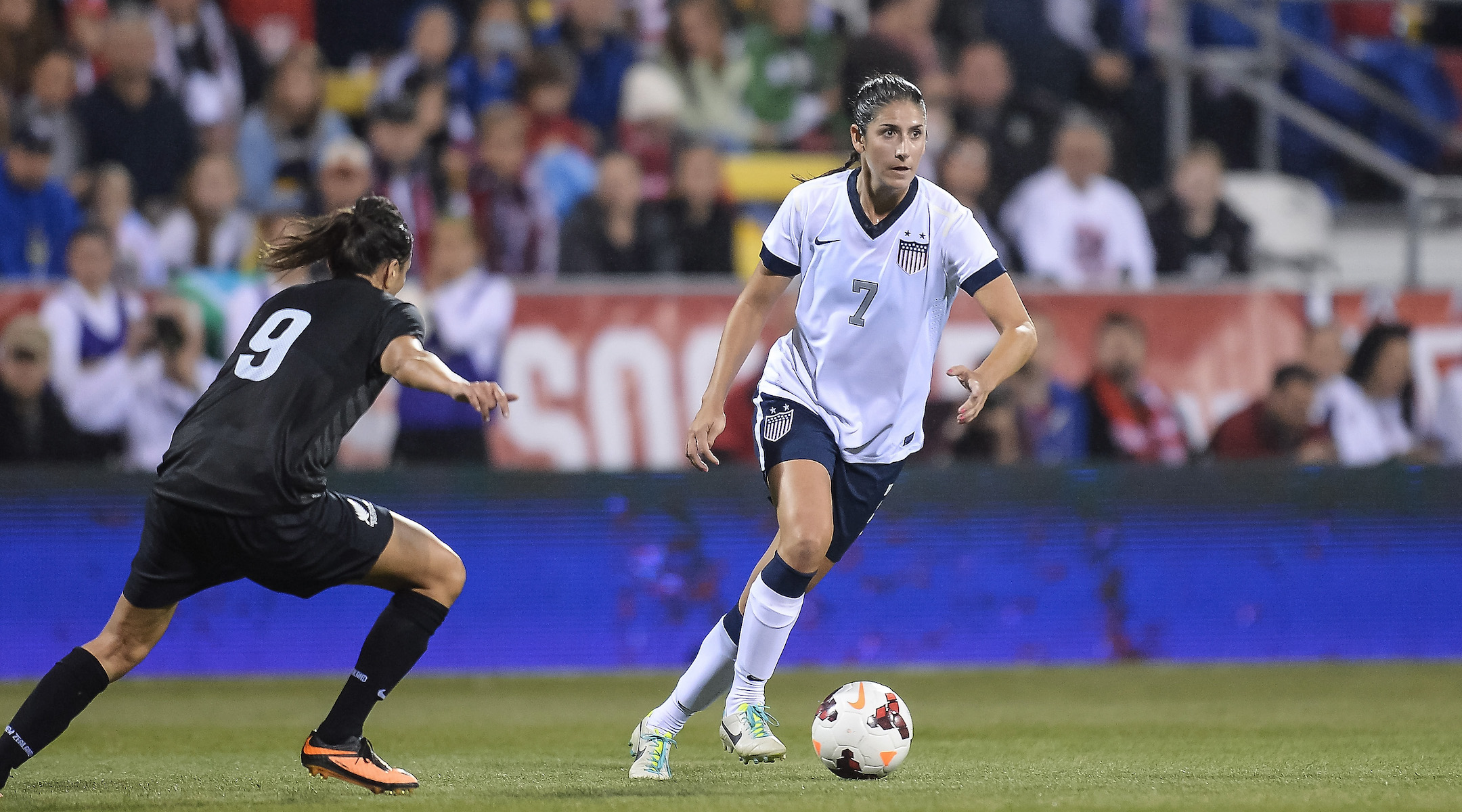 Across 32 teams each with 23 players — a total of 736 women — there are no known Jewish players in this year's Women's World Cup. Israel has never competed in the tournament.
For Yael Averbuch West, a former star player who is now the general manager of the National Women's Soccer League's NJ/NY Gotham FC, the lack of Jewish representation in professional women's soccer is disheartening.
"At the highest levels, there are not a lot of elite Jewish women playing soccer," Averbuch West told the Jewish Telegraphic Agency.
Averbuch West said she is not aware of any Jewish players in the American NWSL, either. She and former teammate Camille Ashton (née Levin) are both general managers in the league, and the NWSL's commissioner, Jessica Berman, is also Jewish.
"I do think that representation is important," Averbuch West said. "And because of the lack of representation, I think that that affects up-and-coming Jewish players. I've had people say to me, 'oh my gosh, you're my favorite player, because we're Jewish and we don't see any Jewish players out there.'"
Averbuch West added that with the recent growth of the NWSL — which is up to 12 teams as of 2022 — the idea that there may be no Jewish players is "quite disturbing."
This hasn't always been the case. When the U.S. team won the 1999 Women's World Cup, Jewish defender Sarah Whalen was on the team. She would go on to win a silver medal with the team at the Olympics the following year.
Andres Cantor and Sammy Sadovnik are back in the broadcast booth.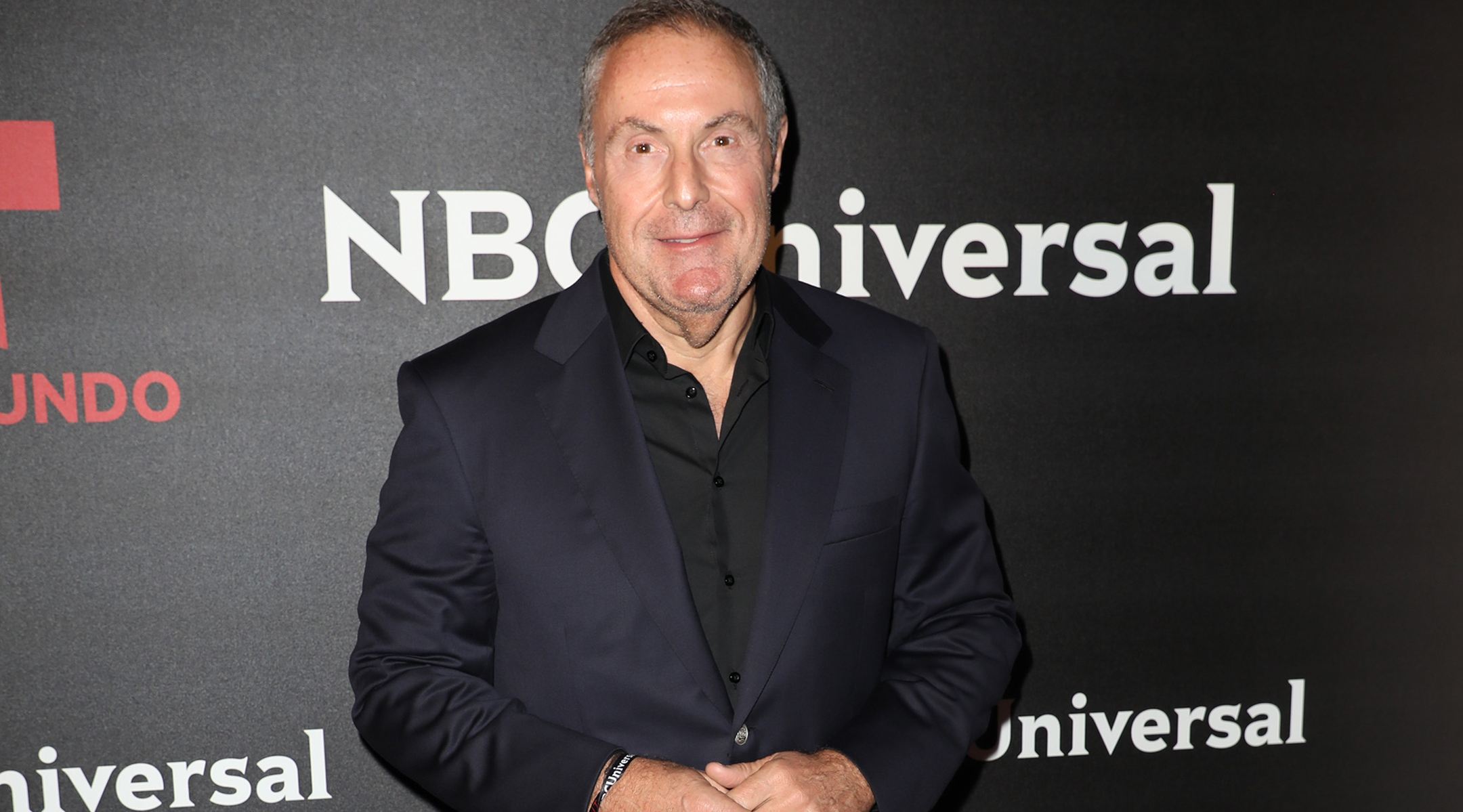 Telemundo's lead play-by-play voice, the Emmy award-winning Andres Cantor, is back in the booth for the Women's World Cup. The Argentine-Jewish announcer is best known for popularizing long goal calls in the English-speaking world (including a memorable call when his country won the 2022 World Cup on home soil).
Cantor will once again be joined by one of his mentees, two-time Emmy nominee Sammy Sadovnik, who has been with Telemundo since 2007 and covered sports since 1989. He's a proud Jew from Peru who visits Israel every year.
Despite this male tandem, networks are working to center the voices of women in soccer broadcasts at this World Cup.
Doug Emhoff will be there, too.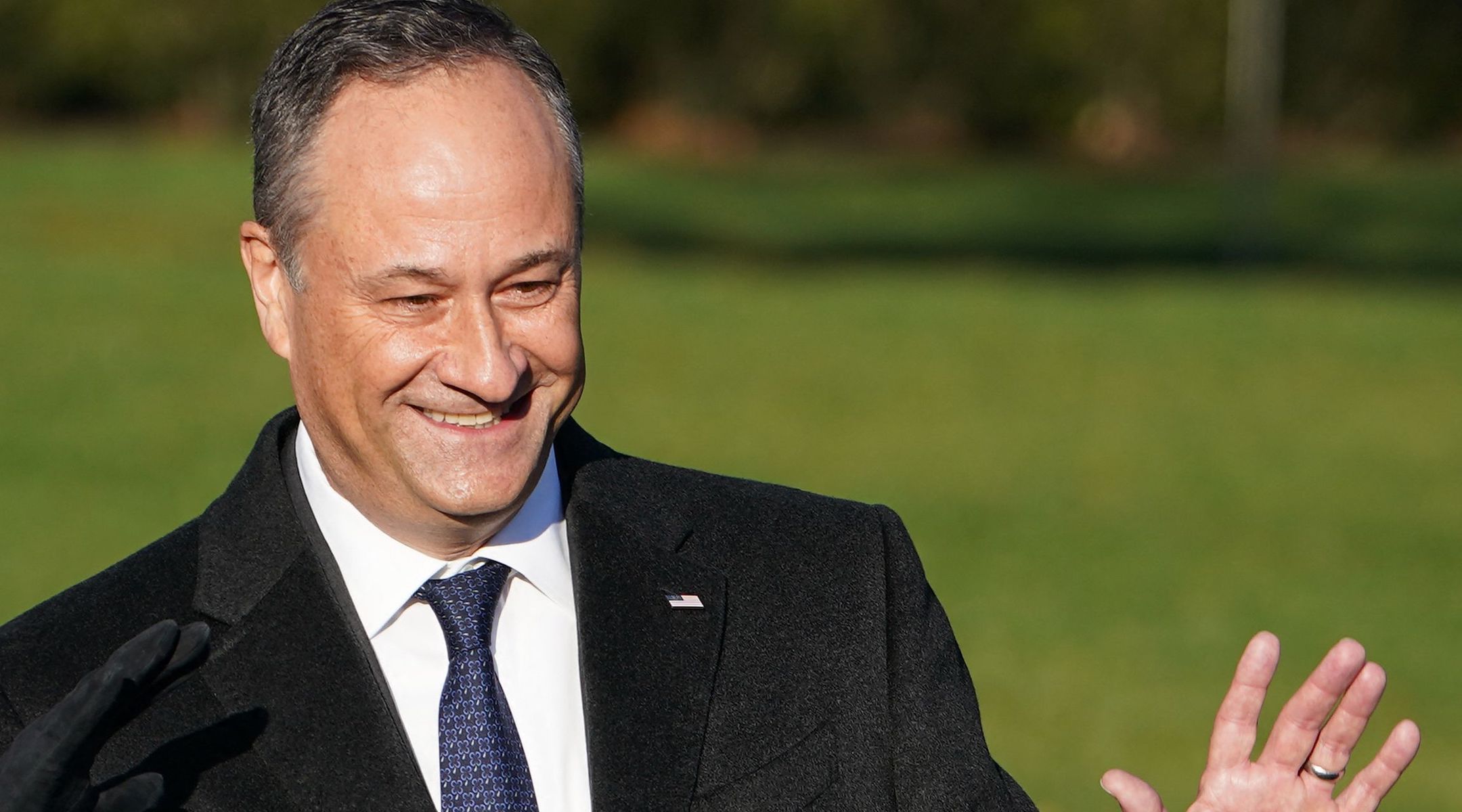 Second gentleman Doug Emhoff, the first Jewish spouse of a president or vice president, is in New Zealand representing the United States.
A self-described "soccer dad," Emhoff will lead the U.S. delegation in the opening ceremony and will attend the team's first match on Friday against Vietnam.
While he's there, Emhoff will also participate in a panel discussion on gender equity in sports. Along with former New Zealand Prime Minister Jacinda Ardern, Emhoff took part on Thursday in a roundtable on combating hate. Emhoff has put efforts to combat antisemitism at the center of his government portfolio.
Another prominent Jew could be cheering from the sidelines: basketball legend Sue Bird, who is engaged to Megan Rapinoe, a longtime star for the U.S. Women's National Team, shared a photo from New Zealand on Instagram earlier this week.
How many Jews live in Australia and New Zealand?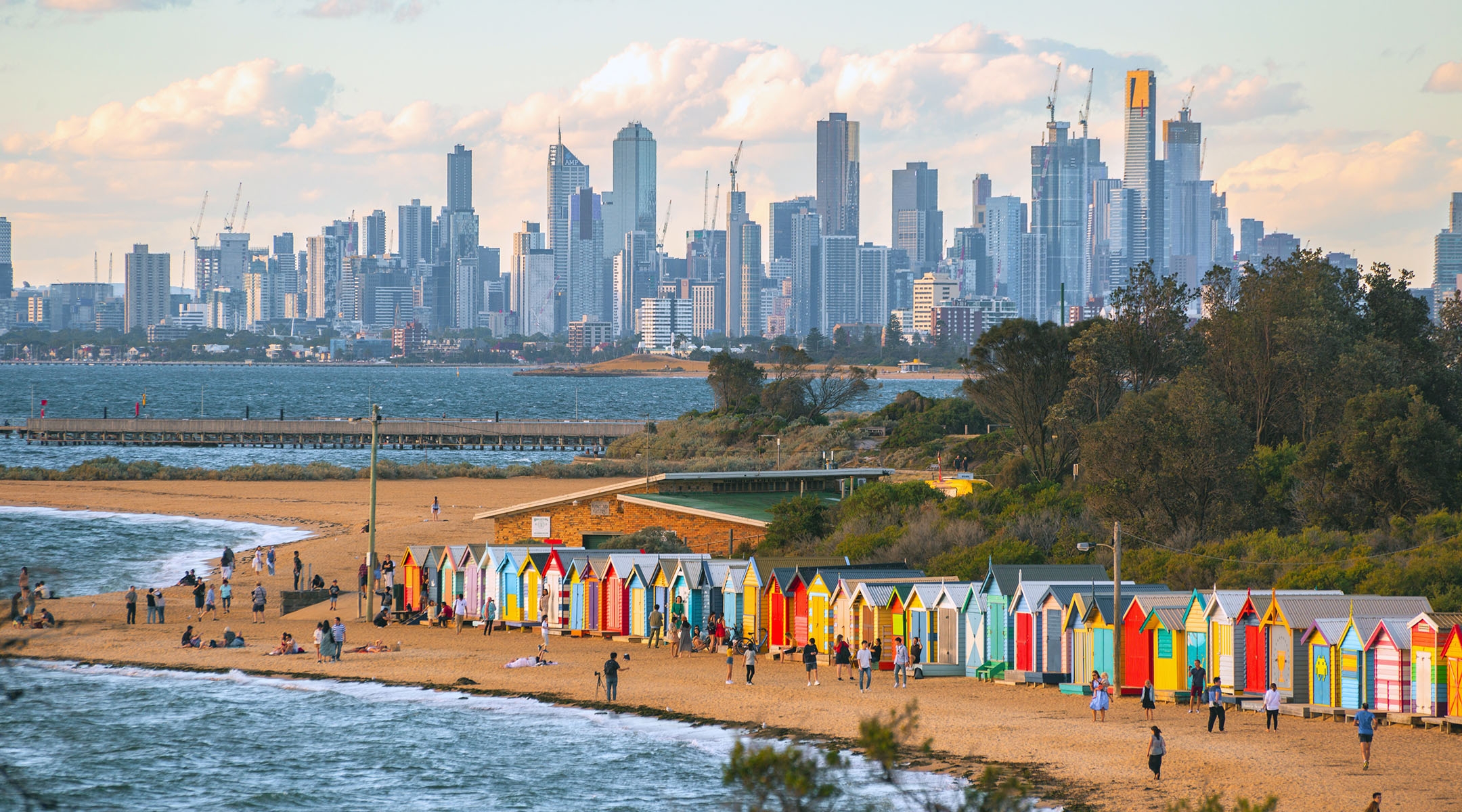 Just under 100,000 Australians identified themselves as Jewish in the country's 2021 census, which amounts to 0.04 percent of the population. Some estimates place the Jewish population above 200,000. A vast majority of Australian Jews live in Sydney and Melbourne.
The Jewish presence in Australia dates back to Jan. 26, 1788, when approximately 16 Jews — 15 convicts and one baby — arrived in what is now Sydney Harbor.
Today, Australia has the highest ratio of Holocaust survivors in overall population besides Israel, as over 8,000 made their way there to escape persecution in Europe between 1933-1945. The New York Times recently reported on how the country's thriving Yiddish scene carries on their legacy.
In New Zealand, around 5,000 Jews were identified in the country's 2018 census; the total population is over 5 million. The first Jewish settlers in New Zealand were British traders.
Click here to sign up or JTA's Jewish Sport Report to get the latest on all things Jews in sports.