Even if you're not familiar with his name, you've definitely heard a song that Benny Blanco has worked on. Along with releasing his own music, the Jewish American record producer and songwriter has worked on music with Justin Bieber, Khalid, J Balvin, The Weeknd, Rihanna, and many, many more.
It's about time we gave you 18 things to know about Benny Blanco:
1. Number one, his real name isn't Benny Blanco, but Benjamin Joseph Levin.
2. Benny was born in Virginia in 1988 and is a self-described "neurotic Jew." (Same, Benny, same.)
He's also tweeted "being jewish is a state of mind":
being jewish is a state of mind… not a religious group

— benny blanco (@ItsBennyBlanco) January 14, 2010
3. Benny and his older brother used to walk to a cassette tape store every afternoon, and discovering Nas at age 5 was what got him into music. As he recalls, "I was 5 or 6 and he was 11 or 12, and I remember that they would never let you buy parental advisory songs that had curse words in them, but my brother knew someone there so they would always hook us up. I just remember I was walking down and my brother was like, this dude Nas is crazy good, you have to listen to him. So, I picked up the new Nas one and he was like, 'You also have to listen to All-4-One.' I got both of them tapes at the same time. I was instantly hooked. I went back there every week."
4. In another interview, he said, "Ever since I was like a baby I was into music, I would always like bang on the pots and pans. My mom and dad were very into music, so they played me music very early on."​
Here's a young Benny, a guitar, and his mom:
5. Benny once dreamed of being a rapper, but quickly decided he would focus on making beats instead. He would take five-hour bus rides from Virginia to New York City to meet with record execs, eventually getting an internship with Jewish producer Disco D (David Shayman). As one article reports of that experience, "he had water bottles thrown at his head but picked up scraps of music knowledge."
He really hustled to start his music career at a young age. "I've been making music since I was kid so it just kind of happened," Benny explained. "When you want something that bad, you're not going to stop at it, you know. So if someone asks me to scrub some toilets, I'm going to scrub some toilets. I just feel like the harder you work the more chances you have to be lucky. I was hitting up people all over MySpace, right when it got big. I would hit up everyone like Jimmy Iovine, Polow Da Don, and I would cold call people and pretend I was a lawyer. They would pass me through and I would be like, 'Please let me play you my demo.' So I just did a lot of wild shit to just try and grab people's ears."
6. Benny's music soon became ubiquitous on the pop charts. Just a few songs he wrote and produced:
"Circus" by Britney Spears
"Hot n Cold" by Katy Perry
"I Kissed a Girl" by Katy Perry
"Don't Trust Me" by 3OH!3
"Tik Tok" by Ke$ha
"Stereo Hearts" (ft. Adam Levine) by Gym Class Heroes
"Moves Like Jagger" (ft. Christina Aguilera) by Maroon 5
"If I Lose Myself" by OneRepublic
"Kill Em with Kindness" by Serena Gomez
"May I Have This Dance" (ft. Chance the Rapper) by Francis and the Lights
"Castle on the Hill" by Ed Sheeran
"Issues" by Julia Michaels
The list goes on and on and on…
7. "I just want to sound different than everyone else," Benny said. "I don't care if it sounds bad. I just want people to be like, 'Yo, that dude Benny was different.' Even if it sounds awful, at least they can't say, 'Oh well, I've heard that before.'"
8. Maroon 5's Adam Levine said of Benny: "It's almost as if he has the Midas touch in putting the right people together at the right time to create a musical moment. He's about the collaboration. And he's so good at nailing down who does everything best."
9. In 2013, Benny Blanco received the Hal David Starlight Award at the Annual Songwriters Hall of Fame ceremony, an award for young artists. (Previous recipients include Drake, John Legend, Taylor Swift, and Alicia Keys.) In his acceptance speech, he joked, "They picked the wrong person, I'm in a room with people I should probably be serving food to."
10. Benny hasn't just created hits for other artists — he's released his own music. Most famous, perhaps was "Eastside" with Halsey and Khalid:
When they performed at the AMAs, he wore his classic tie-dye sweatshirt:
11. Actually let's talk about his style for a sec: curly hair, tie-dye, and overalls. Very much summer-camp-chic.
Also on occasion: a Jewish star necklace!
And bold prints!
i literally pulled up in the quilt from ur grandmothers bedroom pic.twitter.com/Tbh27QxSY8

— benny blanco (@ItsBennyBlanco) November 23, 2020
12. The album art for his debut studio release, Friends Keep Secrets, featured the album name on a tie-dye sweatshirt. We love a commitment to a print! Naturally, he also sold an actual sweatshirt in his merch shop. (Also available for purchase? "Benny Blanco's personal phone, with passcode, photos & contacts included, fully charged.")
13. After the death of Adam Yauch ("MCA") of the Beastie Boys, Benny tweeted, "Beastie boys gave every jewish kid hope to make it in the music industry."
14. On writing hits, he explained, "I think I just write what I'm going through and I know, if I'm going through it, there's got to be a few other people going through the same things. So whatever emotion I'm feeling that day, is what I try to put pen to paper and make some music."
"More than anything I'm like a therapist," he says about the artists he works with. He's become a friend and confidant to Ed Sheeran, Justin Bieber, and so many more pop stars.
15. On starting his career at such a young age, he said, "I wanted to do this my whole life, but I didn't think it was going to happen when I was 22. But when you step in the room with musicians, everyone's equal. If I think something's not good, I'm going to tell someone. I don't hold back."
16. He's very good friends with Lil Dicky, and appeared as a fictionalized version of himself on Lil Dicky's show Dave.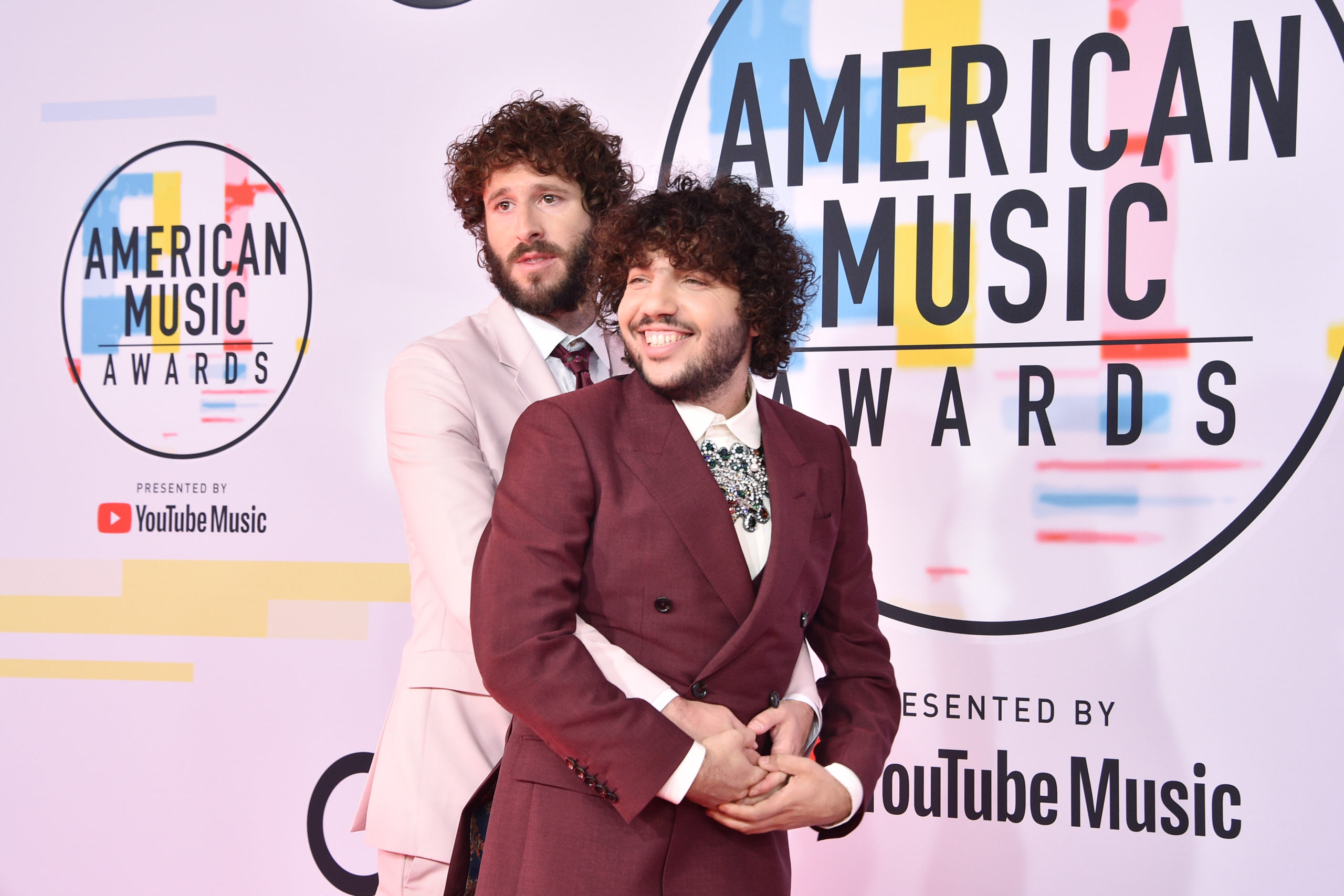 17. If he wasn't a musician? He'd be a chef. In 2020, he launched a cooking show with chef Matty Matheson called Matty and Benny Eat Out America. The best epsiode? A Jewish food tour of LA, featuring Lil Dicky:
18. Okay, let's end with some of his best tweets about being Jewish:
i love be jewish and all but my unibrow has to go asap!

— benny blanco (@ItsBennyBlanco) September 18, 2011
Jewish mothers will never run out of things to worry about

— benny blanco (@ItsBennyBlanco) October 18, 2013
Me w/o music is like a jew w/o alka seltzer

— benny blanco (@ItsBennyBlanco) October 11, 2009
Web md = jewish kryptonite

— benny blanco (@ItsBennyBlanco) October 8, 2011
Happy Chanukah to all my short hairy awkward Jews!!! We r in this one together!!!

— benny blanco (@ItsBennyBlanco) November 28, 2013
Is it weird that the best Dj I have seen in months was a 78 yr old jewish man at Sammy's Romanian?

— benny blanco (@ItsBennyBlanco) April 15, 2012
practice makes perfect… unless ur a 5'5'' jew trying to make it in the NBA… then ur fucked

— benny blanco (@ItsBennyBlanco) June 29, 2012