We didn't know we needed Nicolette Robinson and Leslie Odom, Jr., to cover the Hanukkah tune "Ma'oz Tzur" ("Rock of Ages") until it happened, and now it's the only Hanukkah cover we care about. But along with being an expert Hanukkah song cover-er, Nicolette Robinson is a Black Jewish actress and singer, so we figured we were long past time to give you 18 things to know about her.
1. Nicolette was born in Los Angeles to a white Jewish mom and a Black non-Jewish dad.
"My parents were always great at empowering me to be proud of who I am," she said. "We celebrated Christian and Jewish holidays, and I got an understanding of both sides of my background. I feel really grateful for that." Here's baby Nicolette:
2. "My parents were both in the arts. My dad was a director and my mom was a choreographer and they started their careers as performers. I grew up leaning against the mirrors in rehearsal rooms watching my mom work. It was around me all the time and performing just was something I've loved so much from an early age," she explained.
3. Her grandfather was a rabbi, but it was her non-Jewish dad who ran her family's Passover seders.
4. She attended St. Bernard High School in Playa del Rey, a co-ed Catholic school, "which [was] funny because I'm Jewish." While there, she did a bunch of high school musicals.
5. Also while in high school, she booked a guest role on Cold Case, a CBS procedural. "This was around the time when I wasn't quite sure what I was going to study in college," she recalls. "I had such an amazing time working on set and having this experience that I was like 'Ok, maybe this really is what I want to do.'"
6. She attended her dream school, UCLA, at the School of Theater, Film & Television. "One of the greatest things I learned was to honor the feeling you have in your heart. Our passion lies in what brings us joy, and what challenges and excites us; I loved learning about the arts, whether it was performance or voice or diving into a certain character's world," she said in an alumni magazine interview.
7. Nicolette made her broadway debut in Waitress as the Jenna in 2018. She was the first woman of color to portray the lead role.
8. "This decision that the creative team made, to open the role of Jenna up for me to be able to play it just opens a window for so many people. I think the role of Jenna, this story is so universal and so many people relate to it in so many different ways, it's such a meaningful story so when it's told through my eyes I bring a different experience to it than what other women have would bring to it," Nicolette said after she was cast.
9. Here's Nicolette singing "A Soft Place to Land" from Waitress:
10. She met her husband, Leslie Odom, Jr., on the set of another musical — Once on This Island — in 2008. During the pandemic, they performed a song from the musical together and it's SO good:
Here's another pandemic performance, singing Beyoncé's "Brown Skin Girl":
11. Here's Leslie's telling the story of how they met (Nicolette said, "I like your version better"):
Well, I was living in L.A. at the time, and Nicolette was in college at UCLA. There used to be a theatre company in L.A., which was kind of like the Encores! series here in New York, called Reprise Theatre Company. They were doing Once on This Island and Billy Porter was directing. I was his assistant director, so I got to sit in on the auditions, and this very lovely young girl came in to audition — this UCLA student — who I would have cast. That's not blowing smoke. I just thought that she had an ineffable quality that is very rare and not really something you can teach. It was between her and another very talented actress, and Nicolette didn't get cast.
In the middle of the rehearsal process, one of our cast members, Nita Whitaker, her husband.. passed away. So Nita had to leave and Billy had to do some juggling within the cast. He moved roles around and he called that pretty black girl from the audition and had her step in. As his assistant it was my job to get her up to speed and make sure she was okay. We got very close very quickly, but normally those kinds of things — you call them showmances — end when the show ends, but ours never ended. We just had so much fun together.
Billy Porter, at their wedding, said he takes full credit for their relationship. He joked, "I made this happen."
12. During their first date, Nicolette remembers, "I was still in college at the time and I was living with three other roommates, who were very close friends of mine. I went into the night telling them that I didn't know if it was a date, and then he took me for a walk towards the end of the evening and that's where he kissed me. I came upstairs to my roommates and I was like, 'It was a date!'"
13. The couple married under a chuppah and Robinson's father officiated: "He has long since been the unofficial family rabbi and we all look to him for guidance and advice. Also, there aren't many people that know us as a couple better than he."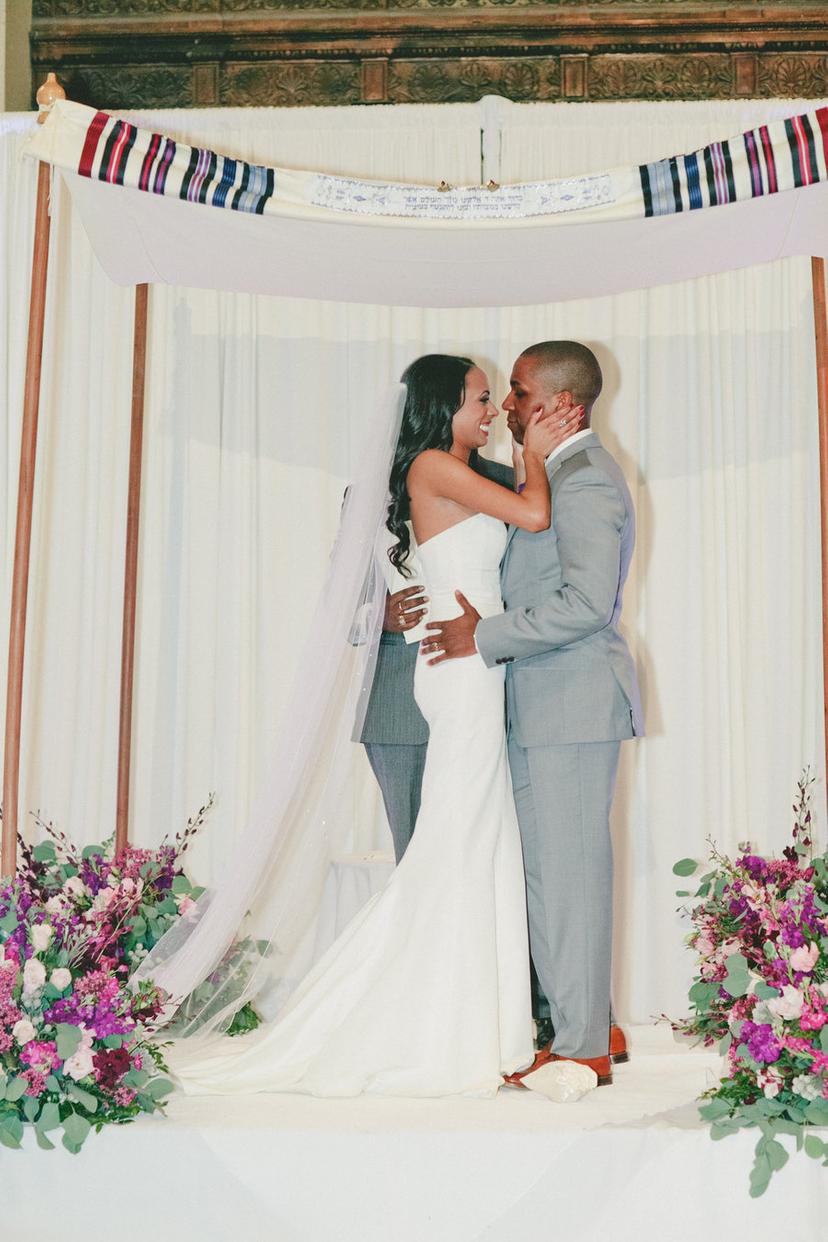 Just… so beautiful, we can't deal.
14. In April 2017, Nicolette and Leslie welcomed their first child: a daughter, Lucille Ruby. In November 2020, she announced they're expecting their second child in March 2021.
15. She calls Daveed Diggs and Okieriete Onaodowan, Leslie's Hamilton co-stars, Lucy's uncles. We're not crying, you are! Do you think Daveed taught Lucy "Puppy for Hanukkah" yet?!?
16. Nicolette has appeared on some of Leslie's tracks, including "What Are We Waiting For" and the iconic Hanukkah cover of "Ma'oz Tzur."
17. Nicolette doesn't just star on Broadway and record beautiful covers — she's on TV as well. She had a recurring role in The Affair as Jane and in Hart of Dixie as Tara. She also starred in Love in the Time of Corona as Sade, a main character, alongside her husband, in August 2020.
18. Let's end with more videos of Nicolette singing, shall we?
And here's this moving clip she posted on Instagram: