We all need a little love in our lives. And luckily, even when we're isolated from other humans, we still have books. Here's an eclectic list of 22 books that all have one thing in common: They feature a Jewish love story. (For our purposes, we're qualifying a love story as Jewish if at least one of the characters is!) And while love comes in all forms — love between friends, familial love, self-love — these stories all center on romantic love.
This list is all shoppable on Bookshop, a platform supporting local bookstores (which we love, obviously).
Adult Fiction
1. Disobedience by Naomi Alderman
Let's start things off with Disobedience, a queer love story by Naomi Alderman. Published in 2006 and adapted into a film in 2018, it is the story of forbidden love between Ronit and Esti, two British Orthodox Jewish women. Ronit, the daughter of a rabbi, left their insular community to lead a life in the secular world, while Esti stayed behind and ended up marrying their childhood friend, Dovid. When Ronit returns to the community after learning of her father's death, she ends up staying with Esti and Dovid. The narration alternates between Ronit's first person and a close third person of Esti and Dovid, so the reader gets a full portrait of their love and their struggle to be together.
2. Milk Fed by Melissa Broder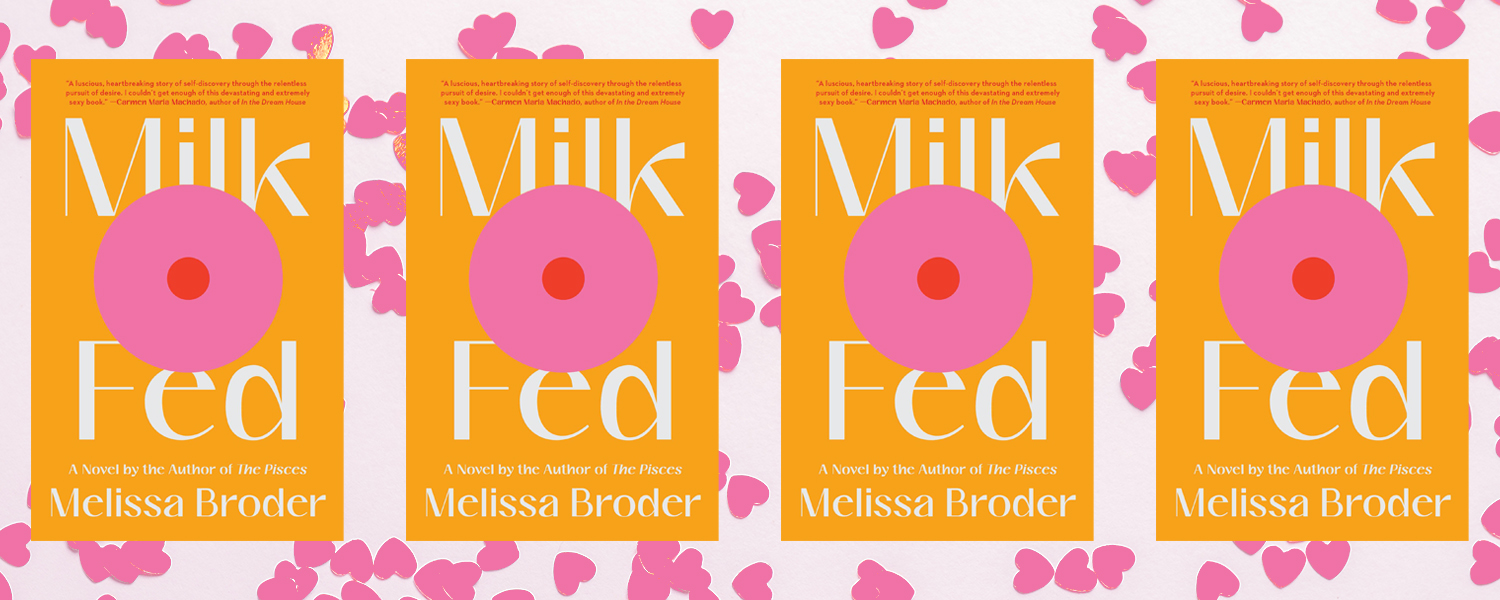 Milk Fed tells the story of Rachel, a 24-year-old struggling comedian living in Los Angeles who obsessively counts calories and has a toxic relationship with her mom. One day, her therapist challenges her to "detox" from communication with her mother — as in, not speak to or text her for 90 days. Soon, Rachel meets Miriam, an unapologetically fat Orthodox Jewish woman who works at a frozen yogurt shop. Miriam slowly gets Rachel to eat, and enjoy, what she's eating, while Rachel begins to fall for Miriam. There's also a dreamy subplot about Rabbi Judah Loew ben Bezalel, the famous rabbi of Prague who made a golem.
As Kelsey Grashoff wrote in Alma, "While she makes some serious missteps with Miriam and doesn't quite understand or respect all the nuances of observant Jewish life or Miriam's boundaries, Rachel comes to appreciate and develop her own Judaism, taking the pieces that are most meaningful to her and allowing them to shape her view on the world." It's a moving, funny, and beautiful story — of love, finding oneself, and recovering from disordered eating. And golems.
3. All the Rivers by Dorit Rabinyan
As I wrote in Alma in a 2017 guide to female Israeli authors, All the Rivers tells the story of an Israeli woman and a Palestinian man who fall in love one winter in New York. A year after its publication, the Israeli Education Ministry banned the novel from high school reading lists. This controversy propelled Rabinyan into the news; she wrote in Time magazine that "the book tries to address the Jewish fear of losing our identity in the Middle East. And yet that very fear condemned it to official rejection." Don't just read Rabinyan's All the Rivers as a rebellion because of its banned book status; read it for a heart-wrenching portrait of a doomed relationship (spoiler: the book is all the more powerful when you find out the story is based on Rabinyan's real life relationship with Palestinian artist Hassan Hourani).
4. Willa & Hesper by Amy Feltman
Okay, this isn't quite a love story, but more about what happens when a relationship falls apart. Willa and Hesper fall in love while in an MFA program, but break up — and both dive into their roots to heal from the breakup. Willa "joins a group trip for Jewish twentysomethings to visit Holocaust sites in Germany and Poland, hoping to override her emotional state. When it proves to be more fraught than home, she must come to terms with her past-the ancestral past, her romantic past, and the past that can lead her forward." Meanwhile, Hesper "runs, following her fractured family back to her grandfather's hometown of Tbilisi, Georgia, looking for the origin story that he is no longer able to tell." A moving tale of heritage, queerness, and what happens when you go looking for yourself in the past.
5. A History of Love by Nicole Krauss
How could we do a list of Jewish love stories on a site called Alma and not include The History of Love, a novel all about love with a protagonist named Alma?! There's two stories in the novel: Leo Gursky, an 80ish-year-old Polish Jewish man who fell in love with his neighbor Alma when they were teens. He writes three books that he gives to her, and then gives the manuscript to his friend, Zvi. At 20, Alma leaves Poland for the U.S., fearing the rising Nazi regime in nearby Germany; Leo, who stays, hides in the woods, miraculously surviving. In the present day, Alma Singer, 15, is named for the main character in The History of Love, her parents' favorite book. Alma's father has just died, and her mom is grieving — and is asked to translate the book from Spanish into English. These are just the bare bones of the plot, but there's many love stories found within. A true Jewish classic.
6. Live a Little by Howard Jacobson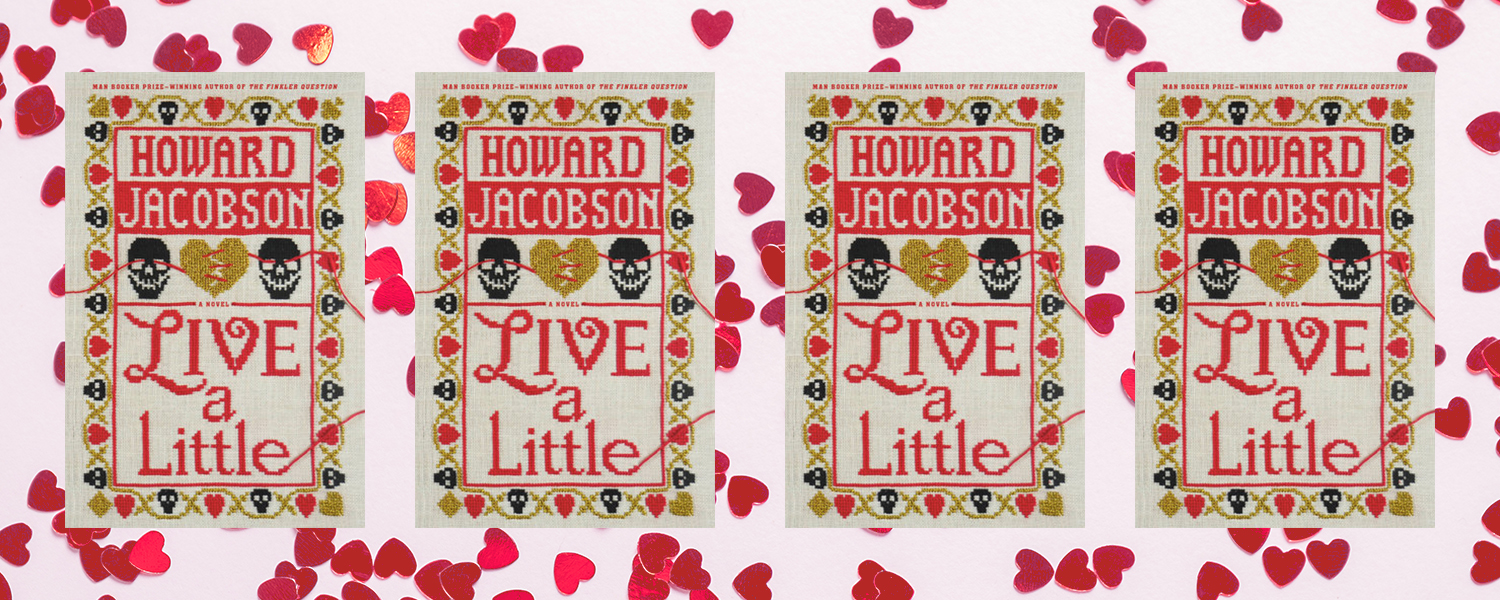 When I interviewed Howard Jacobson, who is 78, around the release of Live a Little, the British Jewish author told me of the protagonist, "She is now my favorite character. And I'm never going to write about anything else but 90-year-old women. From now on, that's it. And maybe I've always been a 90-year-old woman." Live a Little is the story of two 90-year-olds, Shimi and Beryl, who fall in love… kinda. It's about falling in love in old age, when minds and bodies begin to fail. It's darkly funny, entertaining, and emotional. And very Jewish. "Whether I'm writing about Jews or not, the fact that I'm Jewish determines the nature of the way that I write," Jacobson said.
7. Call Me By Your Name by André Aciman
Yes, this is the book that was adapted into 2017's Academy award-winning film of the same name. Call Me By Your Name is a queer Jewish classic that tells the tale of a romance between Elio Perlman, a 17-year-old American-Italian Jewish boy, and Oliver, a 24-year-old American Jewish scholar, in 1980s Italy. As Mandy Berman wrote in Alma of the film adaptation, "Here, in the middle of Italy in 1983, a deeply Catholic country, are four Jews, nonverbally tied together by their shared heritage. One might go so far to say that Elio's attraction to Oliver, which begins their whole relationship, is tied up in Oliver's pride in his Jewishness, his confidence in being who he is — at least, in one capacity. Oliver can't embrace his queerness in the same way, but the compounding of the two identities — queer and Jewish — ends up being an important one for Elio, who, by the end of the film, seems far more comfortable with himself than Oliver will ever be." If the movie is forever ruined for you because of the horrific allegations against co-star Armie Hammer, at least you still have the book!!!
Romance
8. Appetites & Vices by Felicia Grossman
Jewish romance author Felicia Grossman's debut Appetites & Vices is a Jewish historical romance novel with a Sephardic Jewish protagonist. Ursula Nunes is a banking heiress in Philadelphia, not exactly welcomed by high society due to her Jewish heritage, and so a fake engagement may be just the thing to help her enter society. The sequel, Dalliances & Devotion, is the story of Jewish beauty columnist Amalia Truitt who has a history with David Zisskind, a Jewish peddler-turned-soldier. I don't wanna spoil anything for you because they are best just enjoyed without knowing much, but I will say: We love historical romance stories with Jewish protagonists!!
Get it here. (Amazon link, not available on Bookshop.)
9. Head Over Heels by Hannah Orenstein
As I wrote in our favorite Jewish romance of 5780 in The Almas, Head Over Heals is very loosely based on gymnast Aly Raisman's life, if Aly Raisman hadn't made the 2012 Olympic team, and if she dated a football player much more successful than Colton Underwood. Hannah Orenstein's newest romance novel tells the story of Avery, a Jewish gymnast who gets injured during the Olympic trials and sees all her dreams spiral away from her. She ends up in L.A., fails out of college, and starts partying hard, until she meets Tyler, a back-up quarterback for the L.A. Rams. Fast forward (that was all in the first few chapters) and Tyler and Avery have broken up, and Avery is moving back home to a Boston suburb with her parents. She has no purpose, no goals, until she's offered an assistant coaching position for a local girl who is an Olympic hopeful. It doesn't hurt that her head coach is ridiculously cute. Plus, Head Over Heels isn't just a romance; it dives into questions of abusive coaches and doctors in gymnastics, what it means for these young girls to push their bodies to the limits, and what you do when your dreams of Olympic glory disappear in an instant.
10. The Morning Gift by Eva Ibbotson
I grew up reading Eva Ibbotson stories. Which Witch? is perhaps one of my favorite books of all time, and the magic of The Island of the Aunts and The Secret of Platform 13 will stick with me forever… But, what I recently learned is that Jewish author Eva Ibbotson also wrote romance novels for adults. (Gasp!) "I must have happy endings, whether I write for children or grown-ups," she explained. Ibbotson, born in 1925 in Vienna to Jewish parents, left Austria with her mom, Jewish writer Anna Gmeyner, in 1933, eventually settling in England. Fleeing Vienna as a Jewish refugee inspired The Morning Gift, which is the story of Ruth Berger, the 18-year-old daughter of Jewish intellectuals in Vienna who tries to flee the country when Nazis take over. Eventually, she is able to flee to England through a marriage of convenience — her real fiancé, Heini, is a Jewish pianist stuck in Budapest. It's a heart-wrenching love story set on the eve of World War II. Other classic Ibbotson romances, often inspired by her own life, include The Secret Countess, A Company of Swans, A Song for Summer, and Magic Flutes.
11. Miracles and Menorahs by Stacey Agdern
I simply can't do a better job explaining this delightful romance novel than the description: "Sarah Goldman loves Hanukkah, and she's thrilled to be appointed as vice chair of the Hollowville Hanukkah Festival. So when the festival is threatened with cancellation, she comes up with an idea: a new slogan and advertising campaign topped off with a metal menorah large enough to fill the center of town. But even though her heart and dreams are large, the committee's budget constraints threaten to stop her grand plans right in their tracks.⁠ Famous metal sculptor Isaac Lieberman also loves Hanukkah. But his vision of a perfect Hanukkah isn't a commercial community event—it's spending time with family, following age-old traditions. He's not interested in the festival, no matter how many times his grandmother, his bubbe, asks him to contribute one of his sculptures.⁠ Then Sarah comes tumbling into his life…can she change his mind about more than just the holidays?⁠" Finally, the Hanukkah love story we've been waiting for!!
12. Love In Bloom's by Judith Arnold
Once again, I'm just obsessed with how romance novels are marketed, so here's the copy for Love in Bloom's, a Jewish romance set at a Jewish deli on the Upper West Side featuring an uptight Jewish lawyer who has to take over the family business. "Bloom's is a world-famous gourmet food emporium on Manhattan's Upper West Side. It's also the Bloom family business. Founded by Grandma Ida Bloom and her late husband Isaac, the store was until recently run by their older son, Ben. His untimely death compelled Grandma Ida to name a new president to run the business: Ben's daughter Julia. Julia Bloom has no interest in running a deli. She's a lawyer. Her widowed mother, who worked at the store throughout her marriage, would be a superior choice. Even her uncle, Ben's younger brother Jay, would do a better job than Julia. But when Grandma Ida issues an edict, the family must obey–or at least pretend to obey. Julia's pretense goes a little haywire. How can she run the place when the books are a mess, her law-firm boyfriend is trying to get her into bed, her sister Susie is swooning over the store's bagel designer, her mother and uncle are gunning for her job, something mysterious is locked inside her grandfather's old desk, and hundreds of dollars of merchandise goes missing every week? Ron Joffe, the business reporter from Gotham Magazine, intends to write an exposé on the floundering new president of this New York City landmark. Can Julie possibly convince him she knows what she's doing, when she can't even convince herself?"
I mean, how can you not wanna read that!?
(And before we move on, if you're looking for even more recommendations for Jewish romance novels, start here!)
Historical fiction
13. Send for Me by Lauren Fox
Based on letters from author Lauren Fox's own family, Send for Me is a moving work of Jewish historical fiction. There are two timelines: There's Annelise, a young Jewish woman who works at her parents' bakery in rural Germany, who falls in love and flees Germany with her husband and daughter — leaving her parents behind. And then there's Clare, Annelise's granddaughter, who finds a box of her grandmother's letters from Germany and begins to understand her family's history. I loved how excerpts from Fox's great-grandmother's real letters were interspersed throughout the story, and how even though it was so heartbreaking, you want to keep reading. While there is romantic love in the story, this novel is, at its core, a love between mothers and daughters.
14. The Marriage of Opposites by Alice Hoffman
Alice Hoffman's novel The Marriage of Opposites is the story of Rachel Pissarro, the mother of famous impressionist Camille Pissarro. Rachel Pomié Petit Pizzarro, from a French-Jewish family, married Frederic Pizzarro, a Frenchman of Portuguese Jewish descent and the nephew of her deceased first husband (still with me?). The Pizzarro family (Camille would change the spelling to Pissarro) came from a community that fled the Inquisition to end up in St. Thomas in the Caribbean. It's a story of Rachel's love, defying her community to marry Frederic, but also Camille's search for love. I loved this description in the Jewish Book Council's review. "Set in the beau­ti­ful and vivid­ly drawn island of St. Thomas, The Mar­riage of Oppo­sites cre­ates an intense world of polit­i­cal strife, famil­ial anguish, and, of course, heart­break­ing love that makes this clear: the world that one is pre­sent­ed with is nev­er a clear reflec­tion of real­i­ty." A fantastic historical love story.
15. The Convert by Stefan Hertmans
The Convert is set in 11th century France, telling the story of Vigdis Adelaïs, a young woman from a prosperous Christian family, who falls in love with David Todros, a rabbi's son and yeshiva student. Vigdis converts to Judaism (hence the title), becoming Hamoutal. Her father sends his knights after her, but the couple flees to safety in Moniou, a small village in the south of France. They have a few years of happiness until the First Crusade, when antisemitic tragedy strikes the young family and Hamoutal flees France to Cairo, Egypt. This is how we know Hamoutal and David lived — the Cairo Genizah, Jewish medieval manuscripts preserved in an Egyptian synagogue discovered in 1896, contained an account of Hamoutal's plight. What is different about The Convert is that part of the book is also author Stefan Hertmans' attempts to understand her story as he recreates the tale of these star-crossed lovers in Medieval France.
Young Adult Fiction
16. Yes No Maybe So by Becky Albertalli & Aisha Saeed
Yes No Maybe So was inspired by co-authors Becky Albertalli and Aisha Saeed's real-life experiences canvassing for Jon Ossoff in the 2017 special election in suburban Atlanta. The two main characters are Jamie, who's Jewish, and Maya, who's Muslim. Their relationship grows as they spend the summer canvassing for a local election. I particularly loved how they wrote of Jamie's growing understanding of rising antisemitism. About halfway through, he narrates, "Maybe the danger's been there the whole time, like a sleeping Voldemort everyone knew to be on quiet alert for. Everyone but me. Or maybe a part of me knew, Not intellectually, not a kind of knowing I could put into words…" What he went through mirrors the experiences of many Jewish Americans following the 2016 election, and Maya's experience as a Pakistani Muslim American is also deeply real.
Plus, how can you resist this tagline? "Going door to door isn't exactly glamorous, but maybe it's not the worst thing in the world. After all, the polls are getting closer — and so are Maya and Jamie. Mastering local activism is one thing. Navigating the cross-cultural crush of the century is another thing entirely."
(And, for more YA Novels that feature both Jewish and Muslim protagonists, go read this list!)
17. Recommended for You by Laura Silverman
"As a Jewish teen, I rarely saw myself reflected in the stories I read," Laura Silverman wrote for Alma last year, "which is the main reason I write Jewish characters in my books now." In Recommended for You, it's To All the Boys I've Loved Before meets You've Got Mail with a decidedly Jewy twist. Our protagonist is Shoshanna Greenberg, a bookseller at her favorite local bookstore, Once Upon. New hire Jake Kaplan is against everything Shoshana stands for. But when the boss announces a holiday bonus, Shoshanna and Jake compete to sell the most books over the holiday season. "As the competition intensifies, Jake and Shoshanna realize they might be more on the same page than either expects…" I mean…! A fab enemies-to-lovers plot, Jewish, and set in a bookstore? Laura, did you read my dream journal?!
Bonus: We got an exclusive look at the first two chapters right here on Alma.
18. Camp by L.C. Rosen
Camp won our best Jewish YA at the The Almas 5780. Here's why: This YA book by L. C. Rosen was the celebratory dose of summer camp love we needed during this hot mess of a pandemic summer. Camp takes place in the LGBTQ Camp Outland, where theater-loving Randy Kapplehoff is determined to finally win over his eternal summer crush, Hudson Aronson-Lim, by transforming himself into "Del" — a masculine, athletic alter-ego. It's a story about the masks we all sometimes wear, and about how toxic masculinity can creep into the most accepting, queer-friendly spaces. But it's also a delightful story of summer love between two Jewish boys. With so many summer camps cancelled because of the pandemic, it was wonderful to experience the joys of color wars and the thrill of summer camp romance in this queer, sex-positive tale.
19. The Fever King by Victoria Lee
In the former United States, 16-year-old Noam Álvaro wakes up in a hospital bed, the sole survivor of the viral magic that killed his family and made him a technopath (a person with the ability to control technology). When the minister of Carolinia, a cruel magical nation, takes notice of him, he accepts his offer — but secretly plans to work against the government. But then he meets the minister's son, who he has an immediate connection with. It's your classic dystopian YA coming-of-age story, but with a very Jewish heart.
"The Fever King is a very personal book for me in so many ways," writes Victoria Lee. "It deals with trauma and trauma recovery—both personal trauma and intergenerational. Much of the main character's experiences as a refugee in Carolinia was broadly drawn from the Jewish experience. Noam is the child of refugees and has spent his whole life fighting for refugee rights—but when he gains magical powers, he's elevated to a position of privilege in his society and has to reconcile the intersection of that new identity with his other lived experiences. I think all of the Jewish diaspora is familiar with the sense of being an outsider in one's own country of birth, and Jewish people still struggle to reconcile the impact of pogroms and the Holocaust as they reverberate down through the generations. And when this intergenerational trauma intersects with personal trauma, everyone reacts differently." (Read her full letter here.)
20. Nick & Norah's Infinite Playlist by Rachel Cohn and David Leviathan
Nick & Norah's Infinite Playlist, adapted into a romcom in 2008 starring Jewish actress Kat Dennings and Michael Cera, is a heartwarming story of teenagers Nick and Norah who spend a long night together after Nick asks Norah to pretend to be his girlfriend for five minutes. Norah, who is Jewish, is the daughter of a music producer, and Nick is the only straight member of a queercore rock band. Rachel Cohn wrote from Norah's perspective and David Leviathan wrote from Nick's, making it a true collaboration. ("Levithan jokes that they found each other on a deserted island. Cohn says they met through a Jewish dating website — but they really met through the young adult lit world; Levithan is an editor with Scholastic Press.") Nick & Norah's Infinite Playlist is undeniably a YA classic — and a great love story.
Fantasy
21. The Invisible Life of Addie LaRue by V.E. Schwab
V.E. Schwab's The Invisible Life of Addie LaRue is unlike any fantasy novel you've read before. Addie LaRue is a young woman in 1700s rural France who makes a deal with a god of darkness, which promises her freedom and being tied to no one — but cursed with the fact that everyone she meets will forget her. Yet, one day, Addie meets Henry Strauss, a Jewish bookseller. When she returns the next day to the bookstore, he remembers her. Henry is the first person to remember her in 300 years, and so begins their tale. The Invisible Life of Addie LaRue is at once time travel, historical fiction, and a mediation on muses and art. And a really freakin' great love story.
22. Eternal Life by Dara Horn
Rachel has lived for over 2,000 years; she was born in Roman-occupied Jerusalem and falls in love with Elazar, the son of the high priest. When they make a vow with God, they both end up receiving immorality. I loved this part from the New York Times Book Review: "As is often the case in Horn's fiction, Jewish history and the lives of her fictional characters wrap around one another, as Rachel's realization of her inescapable immortality coincides with a brilliant and brutal depiction of the destruction of the ancient Temple, one of the novel's high points." How does Rachel find meaning in her eternal life? How does her relationship with Elazar, the only person who knows who she truly is, shift over the centuries? A captivating read.
Disclosure: This post contains affiliate links, which means we may receive a commission if you click a link and purchase something that we have linked to. While clicking these links won't cost you any extra money, they will help us keep this site up and running. Thanks!