Brooklyn Nine-Nine is not a particularly Jewish show, so the jokes on it rarely are rooted in Jewishness (unlike, say, the Jewish jokes in Crazy Ex-Girlfriend or The Marvelous Mrs. Maisel). Yet, the few Jewish jokes on Brooklyn Nine-Nine — most of which revolve around a bat mitzvah break-up — are too great to ignore. (Also, we just adore Andy Samberg.)
The show is on the verge of cancellation (please, Fox, renew it for season 6 🙏), but we decided to look back at our favorite Jewish moments. We ranked our top six:
6. Half-Jewish? (Season 1, Episode 17)
Jake: And this beautiful basketball-loving Die Hard fan is tearing down my walls of defenses. If we find out that she is half-Jewish, we are all doomed!
Jake and Boyle are on a double dinner date. Essentially: Jake is worried Boyle is going to mess up his relationship, so he agrees to come with him on a double date to keep Boyle from going "Full Boyle." Jake's date is a surprisingly good match, with the punchline being she's perfect especially "if we find out that she is half-Jewish!"
5. Dr. Schwartz (Season 3, Episode 22)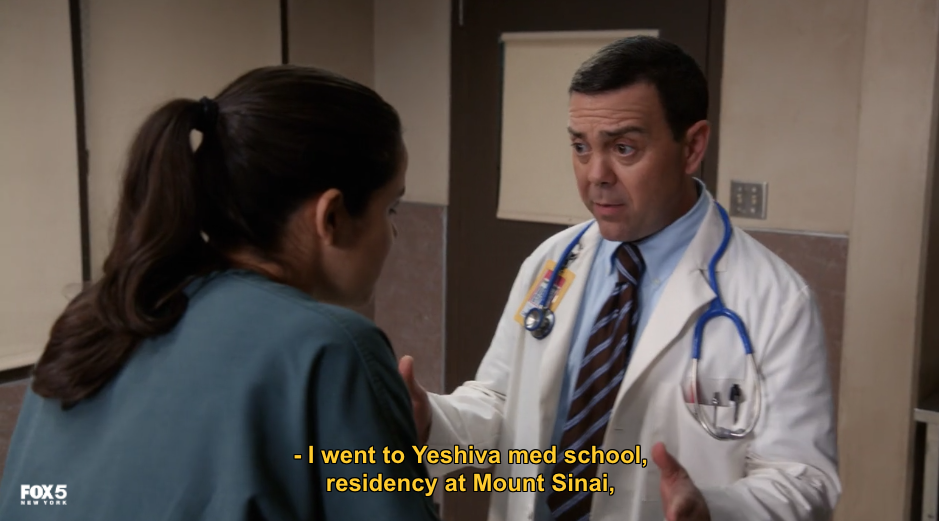 Amy is undercover as a pregnant felon in a Texas state penitentiary, so Boyle goes undercover as a "Dr. Schwartz" in the prison. Since this undercover assignment was originally supposed to go to Jake, it's a very Jewish doctor. What makes this bit so funny: Boyle is super not Jewish, so he keeps trying to throw in randomly Jewish things into his interactions with Amy. He greets her "Shabbat Shalom," and tells her he went to Yeshiva med school, and his best friend is Yacob Peralberg (a fun play on Jake Peralta).
Later in the episode, the woman Amy is trying to get close to asks her why she's so tight with Dr. Schwartz. Amy's response?
Three cheers for Nice Jewish Boys!
4. Jakey the Jew (Season 2, Episode 1)
Jake: I'm a friend of Freddy's from work. I'm looking for him.
Bianca: Well, which Jake are you? Are you Jakey lady hands or are you Jakey the Jew?
Jake: Well, it feels weird saying this but I hope Jakey the Jew?
Bianca: Mm. Jake Peralta.
Jake had gone undercover in the mob, and after a bust that captured almost everyone, one mobster (Freddy) got away. Jake goes searching for him, and ends up at his girlfriend's apartment — played by the amazing Jenny Slate — where the girlfriend questions him: Jakey the Jew or Jakey lady hands? Just the thought that Jake's nickname in this mob was "Jakey the Jew" is too freaking funny.
3a. Jenny Gildenhorn Part 1 (Season 1, Episode 22)
Jake: I remember my worst breakup. Eighth grade. Jenny Gildenhorn.
[Flashback]
Jake: Hey, Jenny.
Jenny: Jake, I don't wanna go out anymore. I like Eddie Fung now.
Jake: But it's my bar Mitzvah. We were gonna grind.
[End of flashback]
Jake: That day, I truly became a man.
Jake and Amy are on a stake-out, reminiscing on their worst break-ups, and Jake brings up Jenny Gildenhorn. Jenny broke up with Jake at JAKE'S OWN BAR MITZVAH. A worst nightmare! He was sad not because they were broken up, but because they "were gonna grind." Ah, to be on the bar/bat mitzvah circuit again.
3b. Jenny Gildenhorn Part 2 (Season 2, Episode 17)
Jewish geography! Slow dancing at bar mitzvahs! Flashbacks to Season 1! This joke has it ALL. At the start of the episode, Jake talks to Rosa and Boyle about how he's finally going to dance with Jenny Gildenhorn, because, "Turns out Gina's mom is friends with Jenny Gildenhorn's mom, and Jenny is gonna be at the wedding. That's right. I'm finally gonna get the slow-dance that Fung denied me."
Side note: In real life Jewish geography, Chelsea Peretti (who plays Gina) and Andy Samberg (Jake) grew up together. Not a Jewish joke, but SO important to include this picture:
We bet they attended each other's bar and bat mitzvahs.
Now back to the joke: At the end of the episode, the shot is lined up exactly as it is in the bar mitzvah flashback, with Jake staring longingly with Jenny slow-dancing with someone else. The same awkward slow dance and the same song. Great build-up, great payoff.
2. Bat Mitzvah Crush (Season 1, Episode 13)
Amy: Peralta, this outfit is ridiculous.
Jake: Chop chop. There's plenty of embarrassing to do and only a few hours to do it in.
Amy: Happy?
Jake: Oh, yeah. You look like every girl at every bat mitzvah I ever had a crush on. Let's see the bow. Just like Jenny Gildenhorn. Why do I wish you had braces? Should we get you braces? No, that's too much.
When Jake picks Amy up for their date (not a real date, part of a bet), he has her wear this ridiculous dress. We have no idea who Jenny Gildenhorn is (yet), but the idea that Amy is fulfilling Jake's middle school fantasies is just too good.
1. How Anti-Semitic is He? (Season 5, Episode 1)
Caleb: Remember that guy Romero who you got the cell phone from? If you got in good with his crew, nobody would dare touch you. But he is real scary and crazy.
Jake: Okay, and how anti-Semitic is he?
Caleb: Average?
Jake: Then let's give it a shot!
Jake is wrongfully imprisoned, and he and his cellmate Caleb are brainstorming gangs he can join. What makes this joke work so well is that the scene leading up to it is funny shots of Jake trying to join gangs, pitching them, and getting rejected. So the off-the-cuff way he asks about the anti-Semitism of Romero is just amazing.
Love you, Andy Samberg.