Sue Bird may be the greatest women's basketball player of all time, and the greatest Jewish athlete — ever. Born and raised on Long Island, Bird now has dual citizenship in America and Israel (for basketball reasons), and, at 40 years old, is set to compete in her fifth Olympic games — aiming to win her fifth gold medal. She's engaged to soccer player Megan Rapinoe, coming off her fourth WNBA title, and keeps breaking records.
Here are 18 things to know about Sue Bird, basketball legend:
1. Sue Bird was born in Syosset, New York to a Jewish dad and a non-Jewish mom. Her dad, Herschel Bird, is a cardiac rehab doctor, and her mom, Nancy Bird, was a nurse at Syosset High. Herschel's parents immigrated to the U.S. from what is now Ukraine in the early 1900s, and changed their name from "Boorda" to "Bird" at Ellis Island.
2. When Sue was in high school, her dad moved with her to Queens, New York, so Sue could play for a better team. (Herschel and Nancy separated her junior year.) "It was a little risky," Herschel said. "What if she got hurt? Syosset was a better school academically. But it all worked out. Sue thrived there. And here she is." Schoolwork, however, was always a priority: "My dad's a doctor, my mom's a nurse. So, academics was always big. If I didn't become an athlete, I took school seriously enough that I would have figured something out. But I didn't have that one backup plan."
3. Her love of basketball began at age 6 at a New York Knicks game, and she began playing because her older sister, Jen, played. However, her 5th grade yearbook said her goals were to become a "lawyer, doctor, professional soccer player." (The WNBA didn't exist until 1997 — Sue was born in 1980, so she was in 5th grade in 1990.) Soccer, she explains, was her favorite sport until she discovered basketball.
4. As Sue writes, "home is where the bagel is," making her a true Long Island gal. In Syosset, Sue went to high school with Natalie Portman. She defines herself as "the fourth most famous person to attend Syosset High School" behind Natalie, Judd Apatow and Idina Menzel.
5. "I did Christmas stuff just as much as I did Hanukkah stuff. I didn't go to church, I didn't go to temple, I wasn't baptized, I didn't have a bat mitzvah or anything like that, but I still had doses of both religions. It was kind of cool, I got the best of both worlds. I got to celebrate Easter with one side of the family, and then we'd have Passover dinner on the other side. I don't necessarily identify one way or the other, I have both inside of me," she explained about her interfaith family.
6. She wears the number 10 because she was born in October, as was her older sister — making Sue a Libra.
7. Sue Bird was recruited by a number of colleges and ultimately chose to play at UConn. There, Bird won two National Championships and three Big East Championships. She was the inaugural winner of the Nancy Lieberman Award in 2000, named after the Jewish hall of famer and given to the top collegiate point guard in the nation. She won the award the next two years.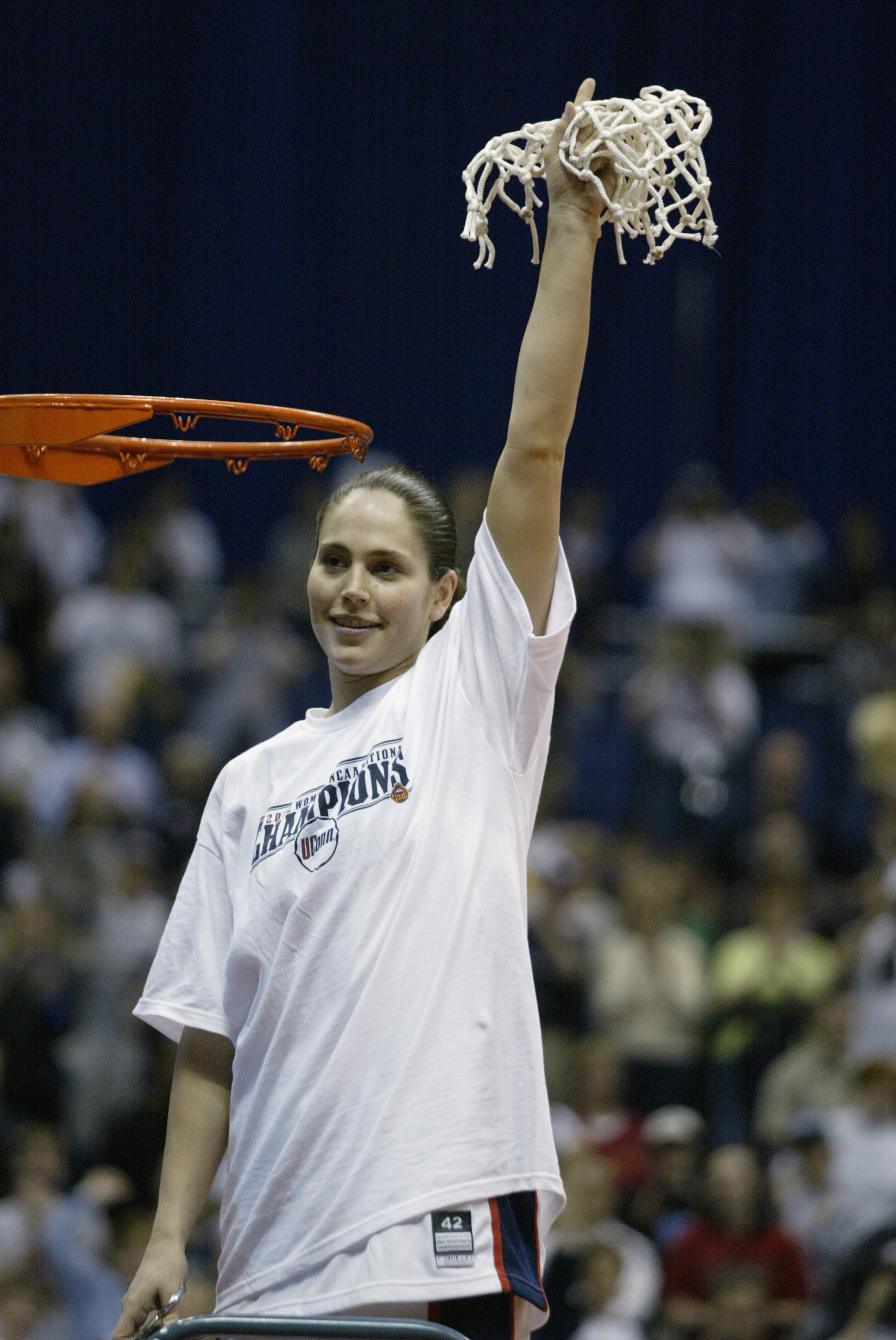 7. In 2002, the Seattle Storm selected Sue Bird with the first pick of the WNBA draft. Here's a 2002 profile of Sue:
8. With the Storm, she's won four WNBA championships — in 2004, 2010, 2018 and 2020. With her win in 2020, Sue became the third-ever basketball player — male or female — to win championships in three different decades.
"I think the fact that I've been able to do it in different decades, with the same franchise, not many people can say that," said Bird. "To recreate it over time and stay at a high level over time is definitely something I'm proud of, because it hasn't been easy." And, Sue is an 11-time WNBA All-Star (2002, 2003, 2005–2007, 2009, 2011, 2014, 2015, 2017, 2018).
9. In 2006, she became an Israeli citizen in a "basketball motivated" decision so she could play for European teams. (Teams in Europe can only have two Americans on them — so if she can play as an Israeli, rather than an American, it's advantageous to her.) "With my father being Jewish and still having relatives in Israel, it was an easy connection. When I tell this to people outside of basketball circles, it seems a little odd. But in our world, it's like very normal. So that's how it all came about. It was cool, because what I found was in this effort to create an opportunity in my basketball career, I was able to learn a lot about a culture that I probably wouldn't have tapped into otherwise," Bird told the Washington Jewish Museum.
10. In a 30 for 30 podcast episode, "The Spy Who Signed Me," Bird and her teammate Diana Taurasi detail their time in Russian professional basketball and talk about their team owner and benefactor, Shabtai Kalmanovich, a Jewish KGB spy who was murdered in 2009. (It's really worth a listen.) Kalmanovich supported women's basketball in a way they had never experienced. Bird said: "He was allowing us to have a career and make money doing it. You're able to take that home, and have a life."
11. Bird (and Tarausi) won gold as part of the Olympic team in 2004, 2008, 2012 and 2016. At the 2020 Olympics in Tokyo (in 2021), they're going for their record fifth gold. Before this year, only six other basketball players have ever appeared in at least five Olympic Games, and only one American woman.
Ahead of the 2012 Games, Sue's mom's longtime partner passed away. "He didn't raise me. They didn't start dating until I was in college. But he was in my life. And very important in my mom's life," she recalls. When she got back from London for the WNBA season, she broke down. "The team told everyone I was sick. But the truth was, I had to go home. It was as if all the emotion — everything that I had put to the side for that month — just hit me in one moment. My battery was on empty."
12. At the 2016 Olympics, Sue met Megan Rapinoe, the U.S. soccer star, during a "media day." Actually, just listen to them tell the story of how they met (around 3:00 in this video). You actually won't be able to not smile:
Bird said that Rapinoe "sauntered" into her DMs, and in 2017, she came out in an ESPN profile. "I'm gay. Megan's my girlfriend. … These aren't secrets to people who know me. I don't feel like I've not lived my life. I think people have this assumption that if you're not talking about it, you must be hiding it, like it's this secret. That was never the case for me." In 2018, Bird and Rapinoe made history as the first gay couple on the cover (and inside of) ESPN's Body Issue.
13. In 2019, Bird went viral for an essay titled "So the President F*cking Hates My Girlfriend," writing about Rapinoe at the 2019 World Cup and what it means when the whole world is watching. "What's it like to have the literal President of the literal United States (of literal America) go Full Adolescent Boy on your girlfriend? Hmm. Well….. it's WEIRD. And I'd say I actually had a pretty standard reaction to it: which was to freak out a little," Bird writes. "That's one thing that you kind of have to know about me and Megan: our politics are similar — after we won the WNBA title in Seattle last season, no way were we going to the (f*cking) White House! — but our dispositions are not. And as we've been talking through a lot of this 'stuff,' as it's been happening to her, you know, I'll be honest here….. some of it scares the sh*t out of me."
14. Bird and Rapinoe got engaged in October 2020:
"Megan Rapinoe did not plan to propose to Sue Bird by the pool on a lazy afternoon in Antigua last fall, but Megan Rapinoe is not a big planner. She tends to do things in the moment, when they feel right," writes Emma Carmichael in GQ. "There was a look in her eye," Bird remembers. Rapinoe got on one knee. Bird caught on: "I could just sense it. I knew what was happening."
15. OK, last bit about Sue & Megan — watch their couples quiz:
Fun facts we learned: Sue's favorite color is blue, she drinks her coffee with oat milk, her favorite TV show is "The Sopranos," her first job was selling ice cream in upstate New York (and she got robbed one time!), her favorite ice cream is cookies and cream, she loves extremely salty popcorn, and she's most scared of sharks and seaweed.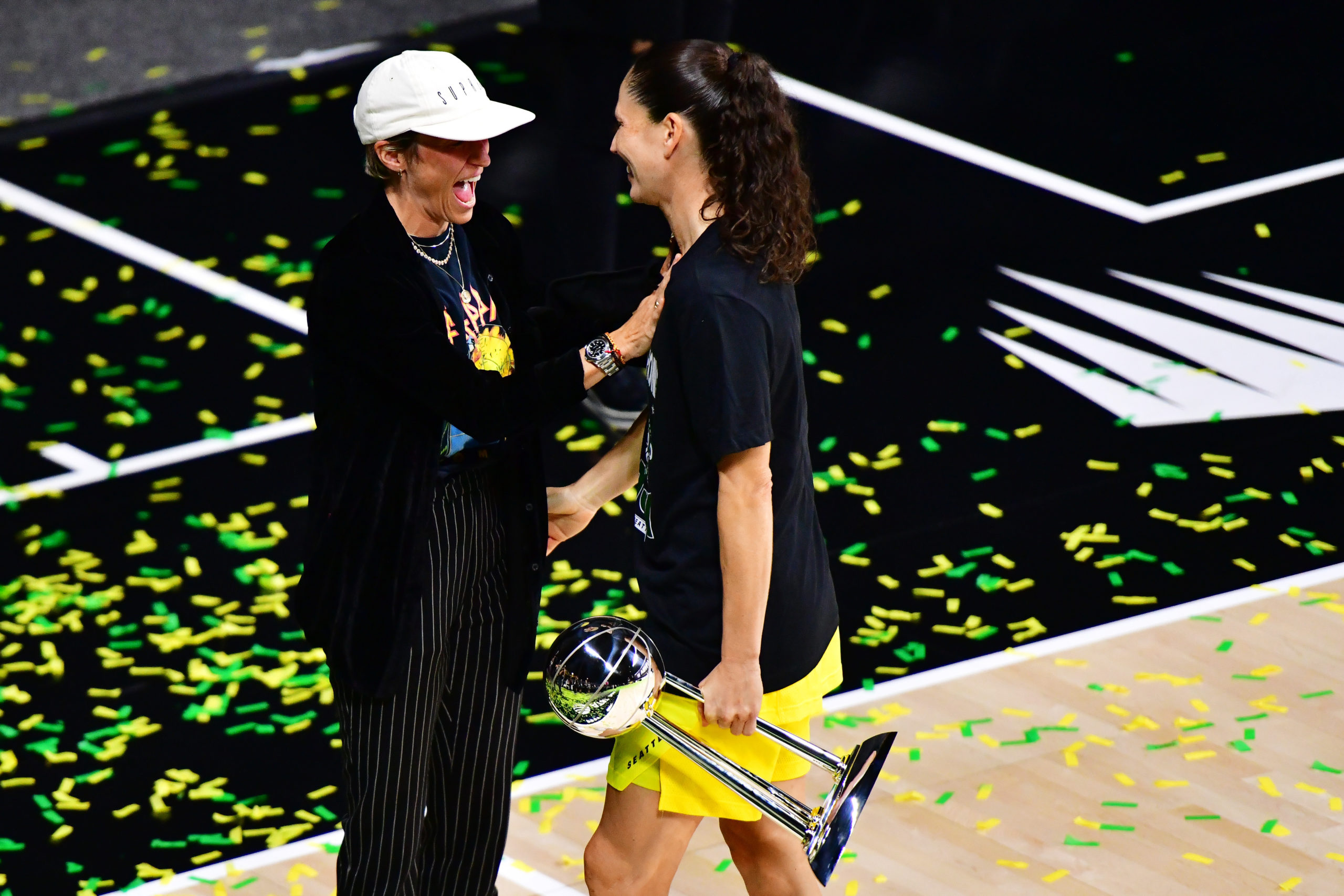 16. Sue is active in the WNBA union as vice president of the players association, helped elect Rev. Raphael Warnock as Georgia's senator over WNBA owner Kelly Loeffler, and dedicated the WNBA's season in the bubble (Wubble) to Breonna Taylor. They decided to use their clothes as a means of protest — Bird said, "I learned about myself from this experience. I like being organized and organizing. I thrive in these situations." When they all decided to wear t-shirts that said, "Let's arrest the cops who killed Breonna Taylor," she started texting everyone in the league. "My room became like a New York City bodega. I was handing out T-shirts to anyone that needed one. I had 20-30 extras."
17. In 2021, she co-founded TOGETHXR, a media and commerce company alongside Alex Morgan, Chloe Kim and Simone Manuel. TOGETHXR is "where culture, activism, lifestyle and sports converge," aiming to "shatter the often narrow depictions of women in the media."
18. Sue Bird is 40, but she isn't stopping anytime soon. "Why would I want to stop when I'm playing a sport and I'm making a good living? When people are like, 'Don't you want to do something else with your life?' I'm like, 'Why would I want to do that? This is amazing.'"
Bonus: A custom Sue Bird trading card, just for you!!