Ruth Bader Ginsburg has become a cultural icon with a powerful legal legacy. She is the second female justice to serve on the Supreme Court.
A new documentary, RBG, sets out to explore Ginsburg's life and career. As the plot synopsis reads, "Without a definitive Ginsburg biography, the unique personal journey of this diminutive, quiet warrior's rise to the nation's highest court has been largely unknown, even to some of her biggest fans — until now."
The movie is released May 4, but we decided to break down the recently-released trailer for you. Here we go.
The trailer opens with shots of the Supreme Court and RBG's office, with Ginsburg's voiceover: I ask no favor for my sex. All I ask of our brethren is that they take their feet off our necks. This quote is from Sarah Grimké. Grimké — along with her sister, Angelina — was, according to the Brooklyn Museum, one of the "first female agents of the American Anti-Slavery Society" and a key figure in the women's rights movement. Grimké authored Letters on the Equality of the Sexes and the Condition of Women in 1838, a document that inspired many first-wave feminists.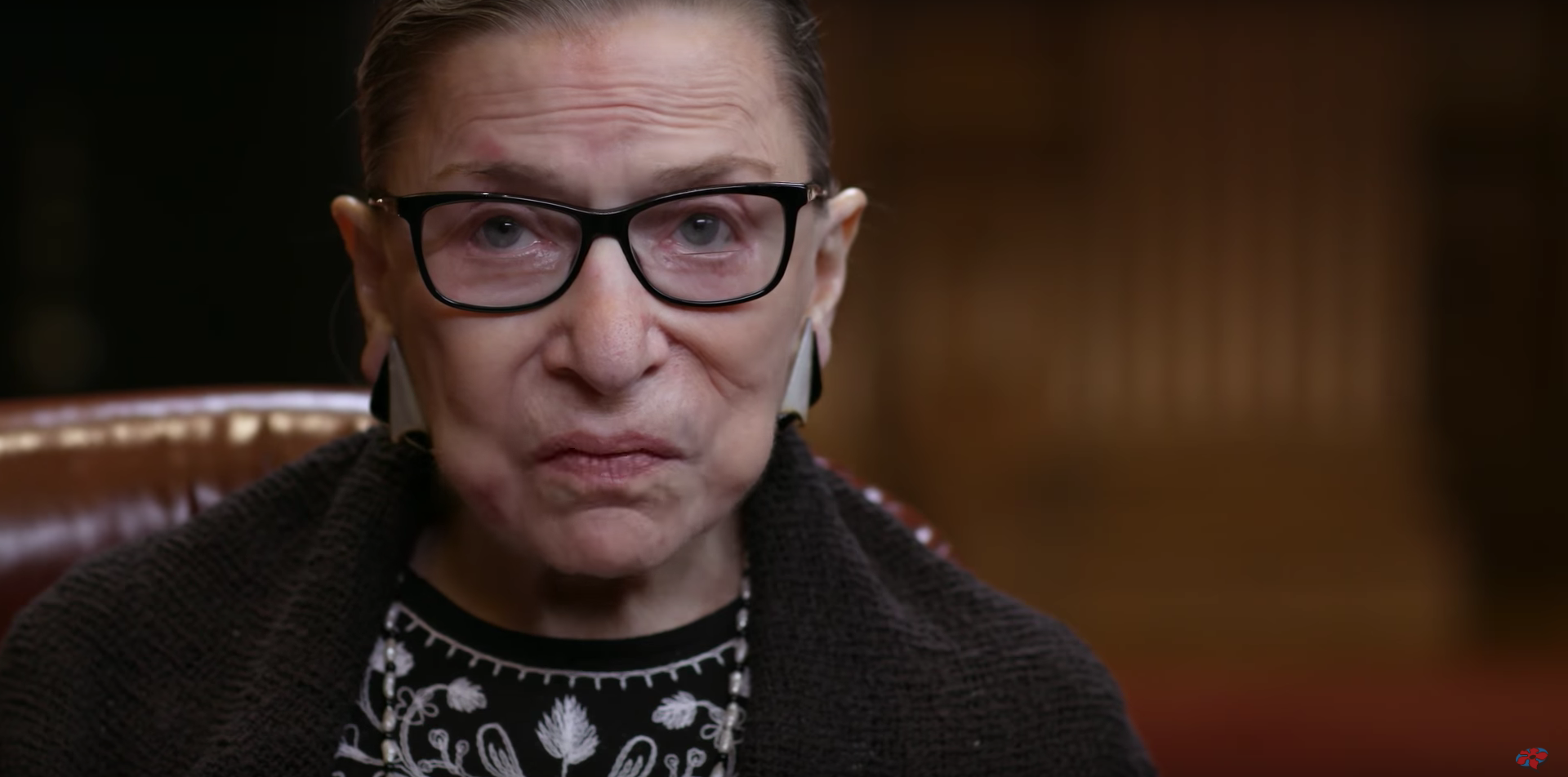 The music swells as RBG stares into the camera; the song is "The Bullpen" by Dessa (a female Minneapolis rapper). The opening lyrics apply perfectly to Ginsburg: Forget the bull in the china shop / there's a china doll in the bullpen.
We then see Ginsburg working out — wearing a "Super Diva !" sweatshirt, which she is known to wear while she works out. Seriously. Her longtime personal trainer, Bryant Johnson, wrote a book The RBG Workout: How She Stays Strong… and You Can Too! where he writes that she enjoys listening to opera to workout to. And her sweatshirt pays homage to the world of opera. (You can get your own here.)
Sidenote: her workout is ridiculously hard.
The trailer then shows us her speaking to a loud (and large) crowd. Nina Totenberg, a supreme court correspondent for NPR, tells the viewers: "She's become such an icon." Totenberg is longtime pals with Ginsburg; she did an interview with her at Sundance in January that went viral because they discussed Kate McKinnon's Ginsburg impression. Ginsberg said, "I liked the actress that portrayed me. And I would like to say 'Gins-burn' sometimes to my colleagues."
We then see Ginsburg speaking, and she says, "I am 84 years old. And everyone wants to take a picture with me."
The trailer then flashes to fan art of RBG, like this popular "Notorious RBG" image.
This image has a fun history: It started as a Tumblr with memes of RBG mashed-up with the rapper The Notorious B.I.G. In 2015, Shana Khizhnik and Irin Carmon turned the Tumblr into Notorious RBG: The Life and Times of Ruth Bader Ginsburg. Ginsburg learned about the Tumblr in 2014 from a law clerk, and said, "Now my grandchildren love it and I try to keep abreast of the latest that's on the Tumblr." She also admitted that she has "quite a large supply" of Notorious RBG t-shirts.
The trailer then shows us Gloria Steinem, who says of Ginsburg, "She's the closest thing to a superhero I know."
We next see images of Ginsburg as a child (obviously this documentary is going to focus on her entire life, not just her stunning legal career and her legacy). She was born Joan Ruth Bader in the Flatbush neighborhood of Brooklyn, New York in 1933 to Russian Jewish Immigrants. They belonged to the East Midwood Jewish Center (which was, fun fact, featured in The Marvelous Mrs. Maisel) and Ginsburg was raised in the Conservative Jewish movement.
(A fun tidbit just for you: read 13-year-old Ginsburg's essay in her synagogue bulletin.)
The trailer then discusses her law career, with Ginsburg saying, "I became a lawyer when women were not wanted by the legal profession." Ginsburg attended Harvard Law School starting in the fall of 1956; she was one of nine women in a class of 500 men. When her husband, Martin Ginsburg, got a job in New York City, she transferred to Columbia Law School. She graduated first in her class.
But the trailer doesn't just focus on Ginsburg, but on the historical forces at the time. We see historical footage of the women's rights movement. A Ginsburg quote is overlaid: "Men and women are persons of equal dignity and they should count equally before the law."
We also get some iconic shots of Ginsburg as a young lawyer. Ginsburg, early in her career, fought for women's rights. The fact that she was a lawyer in the first place was huge progress — she once said in conversation with Gloria Steinem, "I had three strikes against me. First, I was Jewish, and the Wall Street firms were just beginning to accept Jews. Then I was a woman. But the killer was my daughter Jane, who was 4 by then."
She became a law professor in 1963 and in 1970, co-founded the Women's Rights Law Reporter. She became the first tenured woman at Columbia Law school in 1972.
The trailer then quotes a famous line from a case in 1976, Califano v. Goldfarb, where Ginsburg says to the court, "The point is that the discriminatory line almost inevitably hurts women." The case — about discrimination against female wage earners — reached the Supreme Court.
Reflecting on those years, Ginsburg has said, "I did see myself as kind of a kindergarten teacher in those days, because the judges didn't think sex discrimination existed."
And, of course, the film focuses on her family and her husband, Martin Ginsburg. Over footage of Martin you hear Ruth say, "I have had the great good fortune to share life with a partner truly extraordinary for his generation." This quote is from the hearings on her Supreme Court nomination in 1993, where she tells the Senate:
I am, as you know, from my responses to your queries, a Brooklyn native, born and bred, a first generation American on my father's side, barely second generation on my mother's. Neither of my parents had the means to attend college, but both taught me to love learning, to care about people, and to work hard for whatever I wanted or believed in. Their parents had the foresight to leave the old country when Jewish ancestry and faith meant exposure to pogroms and denigration of one's human worth.
What has become of me could happen only in America. Like so many others, I owe so much to the entry this nation afforded to people yearning to breathe free. I have had the great good fortune to share life with a partner truly extraordinary for his generation, a man who believed at age 18 when we met, and who believes today, that a woman's work, whether at home or on the job, is as important as a man's. . . .
There are inklings in the trailer that make it seem that not only is this movie the extraordinary tale of Ginsburg, but of her love story. And her family's support for her work and her career.
Ginsburg pictured in the trailer with Jimmy Carter, who first appointed her to the U.S. Court of Appeals for the District of Columbia Circuit in 1980.
The authors of Notorious RBG tell the filmmakers, "Every time Justice Ginsburg wrote a dissent, the internet would explode."
And of course, the documentary is going to focus on iconic moments, like her swearing-in with President Bill Clinton on August 10, 1993. She was confirmed by the senate by a 96 to 3 vote.
This image, shown near the end of the trailer, related to a ruling about Virginia Military Institute (VMI) in United States v. Virginia. The Supreme Court ruled in 1996 that VMI's single sex admissions policy discriminates against women. Ginsburg wrote the majority opinion, arguing, "There is no reason to believe that the admission of women capable of all the activities required of VMI cadets would destroy the Institute rather than enhance its capacity to serve the 'more perfect Union.'"
The second to last moment in the trailer is a quote from Ginsburg, speaking to the Senate at her confirmation hearing: "I surely would not be in this room today without the determined efforts of men and women who kept dreams alive."
And of course, the trailer ends with Ginsburg working out. A picture of strength at 84.
If the trailer is any indication, this is going to be a powerful film about Ruth Bader Ginsburg's life, career, and legacy. We are beyond excited.