Some bombshell news just dropped that Rashida Jones (beloved Jewish actress) and Ezra Koenig (Vampire Weekend's lead singer, also a Member of the Tribe) not only have been together for over two years, but also had a secret baby!!
Yes, you read that right: Rashida Jones and Ezra Koenig have been dating for a while now, and are new parents. We decided to do some digging to present the Official (and Comprehensive) Rashida Jones and Ezra Koenig Relationship Timeline.
Quick background: Rashida, the daughter of actress Peggy Lipton and producer Quincy Jones, is a Jewish woman of color (who attended Hebrew school, but never had a bat mitzvah). In 2007, she told a reporter, "My boyfriends tend to be Jewish and also be practicing… I don't see it as a necessity, but there's something about it that I connect with for whatever reason."And guess what? Ezra is Jewish!
Okay, let's go….
2014
September 8, 2014: Rashida and Ezra attend a party for the brand Opening Ceremony. They were pictured with Jonah Hill!
(Image by Steve Eichner/WWD)
They were probably just friends at this point — Ezra was then linked to the other woman in the picture, Nadja Rangel, and Rashida was linked to Colin Jost (yikes), who is now with Scarlett Johansson. Still, wild!
2015
July 13, 2015: Rashida reads a short story on the premiere of Ezra's radio show, 'Time Crisis With Ezra Koenig." The recording is no longer available, but the story was apparently about visiting Michael Jackson's house. Were they together at this point?!?!?
July 15, 2015: Rashida's dad, Quincy Jones, tweets a photo that includes Ezra and Rashida (he calls his daughter "my doonkie," which is very cute).
Beautiful dinner hang with @jamesblake, @arzE, and my doonkie @iamrashidajones here at the @MontreuxJazz! pic.twitter.com/7CDc9aPFeD

— Quincy Jones (@QuincyDJones) July 16, 2015
August 21, 2015: Rashida is in a Vine of Ezra's, rapping! (Yes, VINE! R.I.P., Vine.)
October 1, 2015: They attended a show together.
Ezra Koenig and Rashida Jones just politely clapped for my rendition of "I Got You Babe"

— Alex Naidus (@hotdoorknobs) October 1, 2015
(Or was this a joke tweet? We cannot tell.)
October 10, 2015: Rashida and Ezra are "out and about in NYC" together.

Source: Lipstick Alley
December 31, 2015: They attend Haim's New Years Eve Party together
Ezra Koenig, Rashida Jones and more at Haim's New Years Eve party pic.twitter.com/sZYCWm2Zea

— HAIM Updates (@HAIMontour) January 15, 2016
2016
January 24, 2016: They pop up on Desus Nice's instagram:
March 24, 2016: In the photo that is now being used in all the articles, Ezra and Rashida go to a fundraiser for 'The Champions of our Planet's Future.'
The event was hosted by UCLA's Institute of the Environment and Sustainability.
May 25, 2016: Rashida is the speaker for Harvard's Class Day! (She graduated class of 1997.) And guess who was there to support her? Yes, Ezra himself.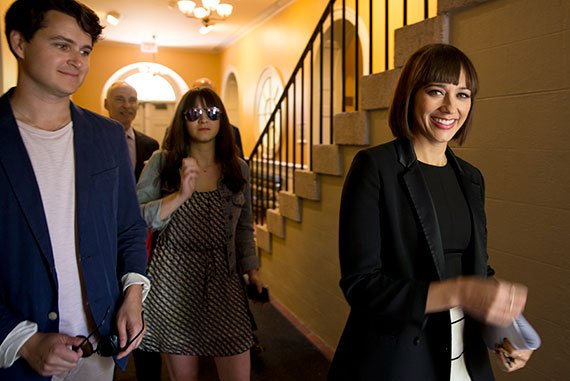 June 18, 2016: Rashida and a "cute white boy" (Ezra) pop up on actress Tasha Smith's Instagram:
September 5, 2016: Ezra and Rashida go to Jimmy Fallon's Labor Day party together. Sneaky photos show her on his lap:
(Via vampire-ezra on tumblr.)
September 10, 2016: Rashida and Ezra attend a dinner for Frame (idk), where Ezra is mistakenly identified as Colin Jost by bfa.com. This is clearly Ezra:
November 25, 2016: They sit front row at a Knicks game together, with Rashida's ex-fiancé Mark Ronson.
2017
January 22, 2017: People reports "Rashida Jones and Boyfriend Ezra Koenig Cozy Up at Sundance," the first celebrity news item linking the two of them. The article stated, "The cute couple — who have kept their relationship largely under wraps…didn't shy away from showing off some PDA. 'She was calling him 'baby,' and after her interview at the studio, she walked up to him and was hugging him,' an onlooker tells PEOPLE. 'They were very comfortable together.'"
January 23, 2017: Other news sites pick up on their status as a couple, citing the People article. People freak out.
Ezra Koenig & Rashida Jones dating is the most monumental thing to happen in 2017

— rrita (@thottihashani) January 24, 2017
RASHIDA JONES AND EZRA KOENIG ARE DATING I AM LIVING!!!! 2017 IS REAL!!! FILLED WITH OPPORTUNITIES!!!

— isa 🍌 (@tabasc_delirium) January 24, 2017
March 2017: They attend the Vanity Fair Oscars party together. Or, maybe they don't go together, but they def take a photo.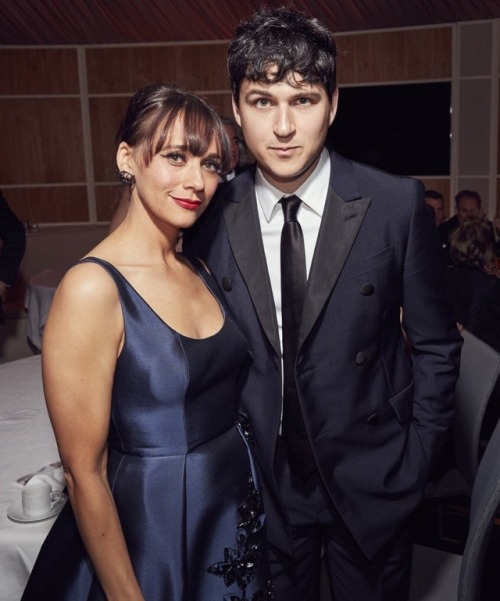 August 22, 2017: They look very cuddly at the launch dinner of Rashida's collab with Away luggage.
September 17, 2017: They go to a Netflix Emmys party together! So many events!
October 14, 2017: Rashida and Ezra attend "Hammer Museum's Gala in the Garden" together. They also posed with our favorite trio of Jewish sisters.
November 11, 2017: Rashida appears in Ezra's insta story (not on his Instagram, yet, though… and he's not on hers).
2018
March 5, 2018: Pregnancy rumors start! After Rashida wears a very baggy #look to the Vanity Fair Oscars Party.
March 7, 2018: Bump kinda visible in this Instagram, as well:
March 20, 2018: Ezra and Rashida go to a dinner to discuss the "Brilliant Minds" movement. (Sorta unclear what that is. Some summit thing?)
March 30, 2018: Rashida is with Ezra at a party. Note the large jacket and her pouring alcohol into someone's else's cup.
https://www.instagram.com/p/Bg9nckABELq/
May 22, 2018: Ezra Koenig's sister Emma Koenig edits a book, Moan: Anonymous Essays on Female Orgasm (with a forward by our favorite, Rachel Bloom), and the person to blurb it? Rashida Jones, duh. "Prioritizing women's pleasure is a critical part of our liberation. Not only is MOAN an intimate, educational and funny collection about orgasm and desire but it pushes the cultural conversation forward."
May 24, 2018: She volunteers with Stacey Abrams for Georgia, again, hiding a bump…
June 8, 2018: Maybe her last public appearance while pregnant? Rashida in a very baggy top at the "Brilliant Minds" conference:
June 28, 2018: Rashida posts a video of her dancing. (From June 2018? Maybe not.)
The rest of her posts over the summer are #TBTs, or just images of her face.
August 22: A BABY IS BORN!
September 26, 2018: Baby news breaks! First reported by Us Weekly: "Rashida Jones is a mom! The 42-year-old actress welcomed her first child with her boyfriend, Ezra Koenig, months ago, Us Weekly can exclusively confirm."
Then, E! News reported more details: the timeline and the name. Reportedly, in August, Rashida and Ezra welcomed a son, Isaiah Jones Koenig (!!!!!).
Wow, that was a journey. TL;DR: They probably started dating in July 2015, and had a baby in August. Mazel tov!