In September 2020, we announced the cohort for the first year of the Alma College Writing Fellows program. We spent an incredible year with these (in our very humble opinion, brilliant) college students, showing them the ropes of digital media while learning from them about Jewish life on campus and what their Jewish identities mean to them. As the school year winds down, we wanted to highlight some of their incredible work.
Below is one article from each of our fellows who wrote for us this year (it was truly hard to choose just one piece!). They range from the silly to the serious, the personal essay to the detailed listicle. All their work is remarkable — and to have written it while attending college during a global pandemic? We're in awe.
You can click on any name to see their author page and all of the fantastic pieces they've worked on all year. And if you'll be in college next year, stay tuned for an application opening up later this summer to be part of the second cohort of Alma College Writing Fellows.
* * *
Hanah Bloom on how being an Asian American Jew means tackling the model minority myth twice.
"We must dismiss the notion that the American minority experience is monolithic. By comparing experiences of minorities in the U.S. based on 'economic success,' which unfortunately decides the assessment of overall 'success' in this country, the premise perpetuates the false notion that if you simply adopt a hard work ethic, you will 'succeed.' It buys into the myth that the 'American dream' is a tangible goal that supposedly ignores barriers formed by race, gender, faith, and other identities. We must stop holding up Asian and Jewish communities as examples of 'success' while ignoring the systemic barriers other minority communities face."
* * *
Nicholas Castillo's response to the capitol mob on January 6: "No More Running."
"The day that right wing militants stormed the U.S. capital left me bewildered and angry and even frightened. But it also left me defiant and optimistic. The last four years, through their ups and downs, have not convinced me that there is no Jewish future in America. They have likewise not convinced me that there is no future for democracy in America. I won't let them take that away from us."
* * *
Aviva Davis on how Jews can still have privilege.
"I am Black, queer, Jewish, and a woman. Every day, the intersection of my identities informs the way I lead my life. Sometimes, I face obstacles due to my intersecting identities, like my government cultivating an unsafe society for folks of many colors and creeds. However, I still have privilege.
Yes, I am a member of multiple minority groups, but I have privilege, and I strongly believe that this topic deserves more discussion, especially in the Jewish community. Because, frankly, I am sick and tired of non-BIPOC Jews refusing to acknowledge their privilege. I understand that being Jewish and accepting that you still have privilege can cause some cognitive dissonance, but it is possible and it is necessary. And if I can do it, so can you."
* * *
Delaney Davis on how Yom Kippur can help survivors of sexual assault heal.
"For survivors, forgiving ourselves is not a confirmation that we did in fact contribute to our trauma, but an acknowledgement that these feelings are very real and shape our ability to live on our own terms. Despite how many feminist infographics we share to our Instagram story, or how often we call out the victim-blaming we witness elsewhere, it can be difficult to apply that same thinking to our own experiences. Forgiving ourselves is the first step we can take to wholeheartedly and unabashedly believing that it wasn't our fault.
Let me say that one more time: It wasn't our fault. It wasn't your fault."
* * *
Eitan Dombey on NBA rookie Deni Avdija.
"Deni… well, he's different.
The way Deni moves on the court exudes confidence. The more I watch him play, the more I'm convinced he's going to be the GJOAT (Greatest Jew of All Time). Meeting his hype won't be easy, but it would have an immeasurable impact on the global Jewish community.
There's an old saying that when a Jewish boy becomes a bar mitzvah, he realizes he's not gonna make the NBA — but he can still be an owner. Deni makes us ask: What if it doesn't have to be that way?"
* * *
Olivia Fletcher on the complicated experience of being Jewish in Northern Ireland.
"Whenever I've spoken to Jews who've visited Belfast, they all recount to me different versions of the same story. A cab driver, a tour guide or whoever, asks them the same question: 'So are you a Catholic Jew or a Protestant Jew?'
* * *
Luna Garcia on how social justice brought her back to Judaism.
"Toni Morrison once wrote, 'If you are free, you need to free somebody else. If you have some power, then your job is to empower somebody else.'
I often think of this as a primary responsibility of tikkun olam. For me, I found my Jewish spirituality not based only around God, but rather based around faith in a better world, in equity, and in humanity's capacity to love. As someone who is both Jewish and a BIPOC, I have been able to lean into this faith as an actionable way to process trauma. So, as an adult, I found a congregation with whom I share these core values."
* * *
Kate Hader's ranking of every single Chloe Fineman impression.
"Comedian Chloe Fineman has quickly become one of the breakout stars of Saturday Night Live since she joined the cast as a featured player in September 2019. Chloe has been producing dead-on impressions for years, but when the pandemic hit and comedians were forced to take their acts online, Fineman excelled at the front-facing Instagram video, growing her following and cementing her status as a genius impressionist.
Last year, Chloe came to my college's campus alongside her fellow SNL cast member Bowen Yang, and watching her rapidly cycle through impressions of celebrities reaching orgasm on stage was mesmerizing. Since then, I have followed everything she does."
* * *
Madison Hahamy on learning to love her Bukharian Jewish identity.
"Whenever I would eat dushpara, I remember bragging about it to my Jewish friends. I would tell them about how many hours my savta spent folding the dumplings, simmering the meat, spooning the broth, and how close I was to being able to make it myself. I figured they also ate dushpara — we all went to Hebrew school and services, so it only made sense that we would share this, too. But they never knew what I was talking about, and I would be confused. Don't all Jewish grandmas make dushpara?"
* * *
Britt Jacobson's beginner's guide to Israeli rock.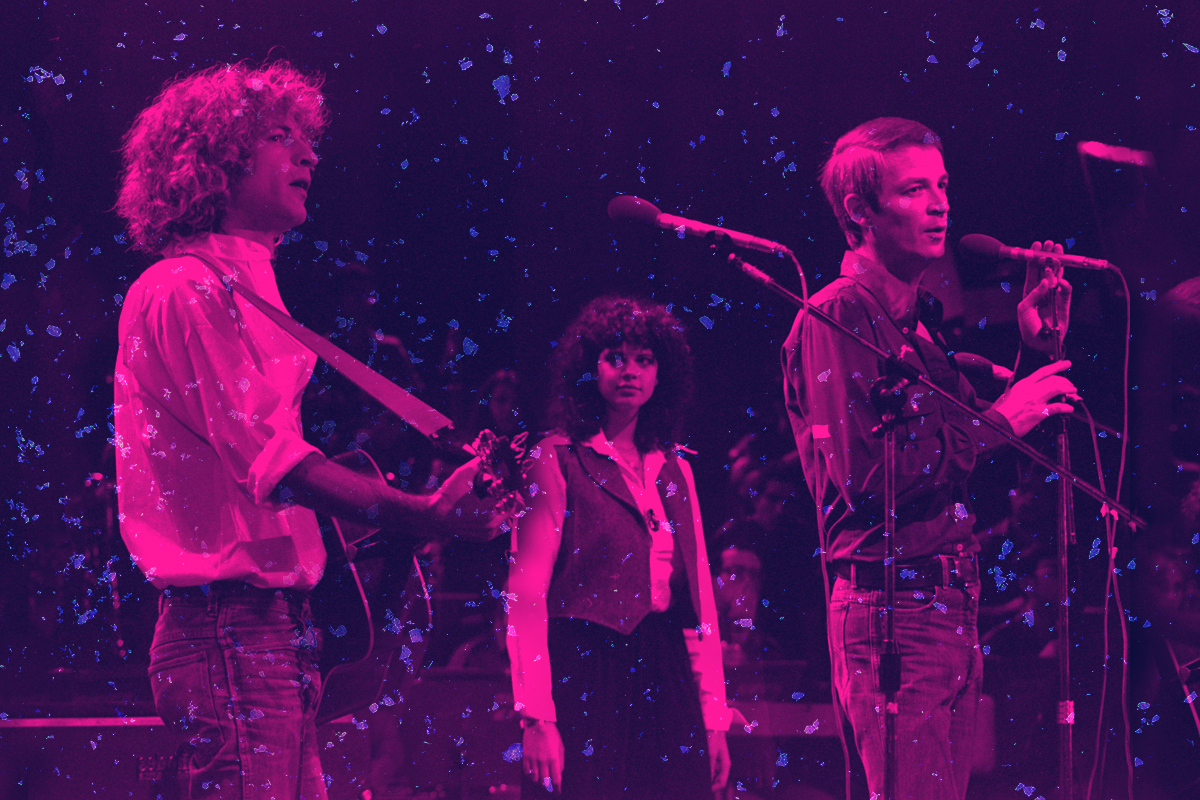 "Regardless of if you understand the lyrics or not, there are plenty of excellent Hebrew classic rock tunes worth listening to. Because if you listen to the Beatles channel on Sirius XM as much as I do, unlocking your inner Israeli grandparent won't be so hard."
* * *
Lara Draper Jakobsen on what happens when we compare other genocides to the Holocaust.
"Holocaust comparisons are not new, and while most operate from spaces of both sympathy and action, they also highlight an increasingly troubling lack of education surrounding the Holocaust, demonstrating the negative impacts of comparing genocides to each other."
* * *
Sumner Lewis on the Jewishness of Nomi in "grown-ish."
"Nomi from grown-ish, played by Jewish actress Emily Arlook, is a bisexual Jewish woman in college. You would think I'd be ecstatic to see a fellow Jewish character my own age reflected on screen. Instead, I find myself disappointed at every offhand comment from Nomi and other characters about her Jewishness."
* * *
Leenoy Margalit on learning to love her Jewish nose.
"Right now, most days, I' m happy with what I see in the mirror. I'm proud of how hard I've worked to love myself. All of myself — brown skin, arm hair, and 'Jewish nose' included. I don't have a problem with that description anymore — I'm happily reclaiming it. My nose is Jewish. It has literally been shaped by my family's race and religion. It's a part of my Jewish identity and legacy. It's also just a fucking nose. And I'm sick of letting other people's ideas and expectations of beauty define me."
* * *
Yitzhak/Isaac Ofori-Solomon on how the Jewish holidays helped them deal with the trauma of 2020.
"For me, connecting with my Jewishness has always allowed a way to actively wrestle with the betrayal and trauma of living as a Black citizen of the United States.
This past High Holiday season, I found myself sitting with all of this. Despite the fact that I know I am not alone, I still struggle under the weight of all this pain. Yet, I have found myself only more galvanized in my resolve to push towards the end goal of liberation."
* * *
Talia Rodriguez on how the pandemic completely altered her freshman year at college — but how the Jewish community is getting her through.
"It had been a really long, emotional week. I had just moved into my dorm room at Wesleyan University and I was in the midst of a mandatory — and very isolating — two-week quarantine. I decided to log onto the first Shabbat of the year, hosted by the Wesleyan Jewish Community (a student led, non denominational, pluralistic Jewish group on campus). Immediately I was greeted with smiling faces, friendly introductions, and familiar prayers like "Lecha Dodi" and "Oseh Shalom." Even though the isolation was hard, I felt like, if I was able to celebrate Shabbat each week with this community, I would make it the three months to Thanksgiving."
* * *
Rebecca Salzhauer's hilarious experience of baking matzah.
"As my year of baking drew to a close, I asked myself, 'Am I insane enough to face the final frontier of Jewish carbs?' Yes. I am."
* * *
Rebecca Stekol on her interfaith relationship during the winter holidays.
"In some Jewish circles, when I mention that I am in an interfaith relationship, the first question I'm asked is how we handle the winter holidays. While I've been in this relationship long enough to expect these questions, I am still slightly taken aback every time. It's as if there's an unwritten rule about every interfaith relationship where one person celebrates Hanukkah and the other celebrates Christmas: that the holiday season will be burdensome and complicated. The reality, however, is completely different."