2021 was certainly a year. We are at the end of another 12 months of dealing with the COVID pandemic, and just when it felt like things might be getting better, they, uh, did not. And yet! There were still plenty of moments of truly joyous Jewish pop culture this year. We're thrilled to celebrate all these Jewish celebrities and Jewish representation from movies and TV to music and Broadway.
Team Alma — Editor Molly Tolsky, Deputy Managing Editor Emily Burack, Associate Editor Chloe Sarbib and Editorial Assistant Evelyn Frick — put their heads together to pick our top 50 Jewish pop culture moments of the year. This list will take you through our picks, counting down to #1. All completely and utterly subjective, of course.
With that out of the way, it's time for Alma's fifth annual best Jewish pop culture moments. (Side note: Five years, y'all? Where has the time gone!?!) Thank you for being you, Jewish celebrities.
50. "The Nanny" returned to streaming this year, with our beloved Jewish gal from Queens making her HBO Max debut in April. It's been 22 years since the show went off the air, but Fran Fine is finally gracing our screens again. (And we were reminded how perfect the Hanukkah episode of "The Nanny" truly was.)
49. The tributes to Jewish composer and lyricist Stephen Sondheim after his death at age 91 were heartfelt and perfect. Our favorite was from Mandy Patinkin, who wrote, "The guy who wrote my prayers has died. His words were my Torah. Sondheim wrote what he wished for himself and the world at large. We'll be learning from his work as long as people are singing songs and beyond. Thank you Steve." Amen.
48. "Come From Away," the hit Broadway musical about 9/11, reopened in September — and a filmed version of the show premiered on Apple TV+ to commemorate the 20th anniversary of 9/11. Not only was the entirety of "Come From Away" inherently Jewish, thanks to the Canadian Jews who wrote the show, but one particular moment made us tear up: the inclusion of the Oseh Shalom prayer in the song "Prayer." The song overlays three different religious prayers for peace, and, as Jacob Gurvis wrote, the scene "encapsulates not only the diversity of the strangers sent to Gander, but also the radical openness of the community that was created amongst the islanders and the visitors."
47. Padma Lakshi's show "Taste the Nation" gifted us a Hanukkah episode this season. In "Happy Challah Days," she visits the Lower East Side with stops at Russ & Daughters, the Tenement Museum and the Pickle Guys. After speaking with Holocaust survivor Ruth Zimbler, Lakshmi learns to make holishkes with gefilte fish. Other Jewish food personalities in the episode include Deb Perelman of Smitten Kitchen and Caroline Schiff, sourdough queen and Gage & Tollner pastry chef. Julia Gergely writes in JTA that "Lakshmi uses Hanukkah as a way to explore how Jewish-American culture came to be — its resilience, its community, its assimilation, its struggle, with food at the core of it all."
46. Where to even start re: the Jewishness of AppleTV+'s "The Shrink Next Door"? Paul Rudd stars, Will Ferrell plays a Jew, it's based on a very strange true story that took place in the Modern Orthodox community of New York City. As Ben Sales writes in JTA, "Pages could be filled by just listing the Jewish references and resonances in the story."
45. The Tokyo Paralympics were replete with Jewish athletic talent. Viewers got to see the Paralympic debut of young track and field phenom Ezra Frech and Israeli swimmer Mark Malyar (who won multiple gold medals). But perhaps the most dramatic win went to American table tennis player Ian Seidenfeld, who upset defending champion Peter Rosenmeier of Denmark to win the gold medal. Heartwarmingly, the 20-year-old was following in the footsteps of his father and coach Mitchell, a four-time Paralympic table tennis medalist.
44. On the Christmas special of the glassblowing reality TV competition "Blown Away," two Jewish glassblowers — Andi Kovel and Alexander Rosenberg — competed. Andi told Alma, "Being Jewish, I can't say that I love Christmas. It's busy and crowded and on Christmas, everyone's with their families and I have no one to hang out with [laughs]. And I think the colors are horrible — the red and green, I really wanted to have a chance to reinvent [Christmas] and pick some different shades of red and green. I was like, I'm gonna update Christmas." We love Jews-who-hate-Christmas representation on TV!!
43. Jewish director Steven Spielberg finally directed a musical. Spielberg's "West Side Story" was a work of filmmaking art.
"West Side Story" is based on the 1957 musical from Jewish creatives Jerome Robbins, Leonard Bernstein, Stephen Sondheim and Arthur Laurents. Originally conceived as "East Side Story," a conflict between an Irish Catholic family and a Jewish family on the Lower East Side, the musical features a rivalry between a white gang, the Jets, and a Puerto Rican gang, the Sharks. Jewish Pulitzer Prize winner Tony Kushner adapted the screenplay for 2021.
42. Lil Nas X isn't Jewish. Or is he? The star, who's known for making statements on religion, posted multiple photos and videos of himself on Instagram wearing a Star of David earring. As Lil Nas X doesn't include any explanation for his fashion choice, we did our own investigation, yielding inconclusive results. Either way: a fun moment for Jewish pop culture.
41. For a long time, there have been only a handful of Jewish players in the NHL. This past season, New York Rangers Jewish hockey player Adam Fox was awarded the James Norris Memorial Trophy — recognition for being the best defenseman in the whole league. He became the first Jewish player to win a major NHL award. Mazels, Adam!!
40. The end of 2020 brought the worst imaginable news for "Jeopardy!" fans with the death of longtime host Alex Trebek. The journey to replace him has been a rocky road, but it (temporarily) ended with the choice of Jewish actress Mayim Bialik to share hosting duties with former champion Ken Jennings. So far, she's stumped contestants with a question about cholent and brought Hanukkah to the set.
39. OG real housewife of Beverly Hills Kyle Richards threw a RHOBH-worthy bat mitzvah for her daughter, Portia Umansky — and it did not disappoint. The bat mitzvah party was a lavish, circus-themed affair, and there was even a ferris wheel.
38. In January, rapper Flo Milli's song "Roaring 20s" sampled "Fiddler on the Roof," and it's simply incredible. You have to watch/listen for yourself:
37. In these trying times, trashy reality TV is sometimes all we have — and we got the perfect balm in HBO Max's "FBoy Island," a dating show that was actually, well, good. But even more surprising than a good dating show was the Israeli contestant Israeli Dimri's passion for uniting the Jewish people. He didn't get too far in the competition, but he told Alma he has his sights set much higher, anyway.
36. Speaking of Jews on reality dating shows, this summer's "Love Island USA" had two Jewish contestants, Josh Goldstein and Gabe Sadowsky. As Sara Starr wrote in Alma, "Seeing these Jewish Islanders on the small screen matters. Jewish contestants on a show that airs on primetime television means introducing people of all backgrounds to the Jewish experience."
35. It's been a tough time for Taylor Swift fans who've also happened to have a crush on Jake Gyllenhaal since high school. In the re-recording of Swift's fourth studio album, "Red," fans were given an extended 10-minute version of the song "All Too Well," widely considered to be a takedown of her ex-flame, Jewish actor Jake Gyllenhaal. Many hardcore Swifties have declared the actor officially cancelled; others just want to know where the scarf is, Jake.
34. As the first show on television with an all Indigenous writers' room and all Indigenous main characters, FX's "Reservation Dogs" is beyond historic. Co-created by Jewish Indigenous actor and writer Taika Waititi, the show also features some incredible Jewish Indigenous talent on screen: actress Sarah Podemski. Sarah plays Rita Smallhill, a tough but loving single Native mom to main character Bear.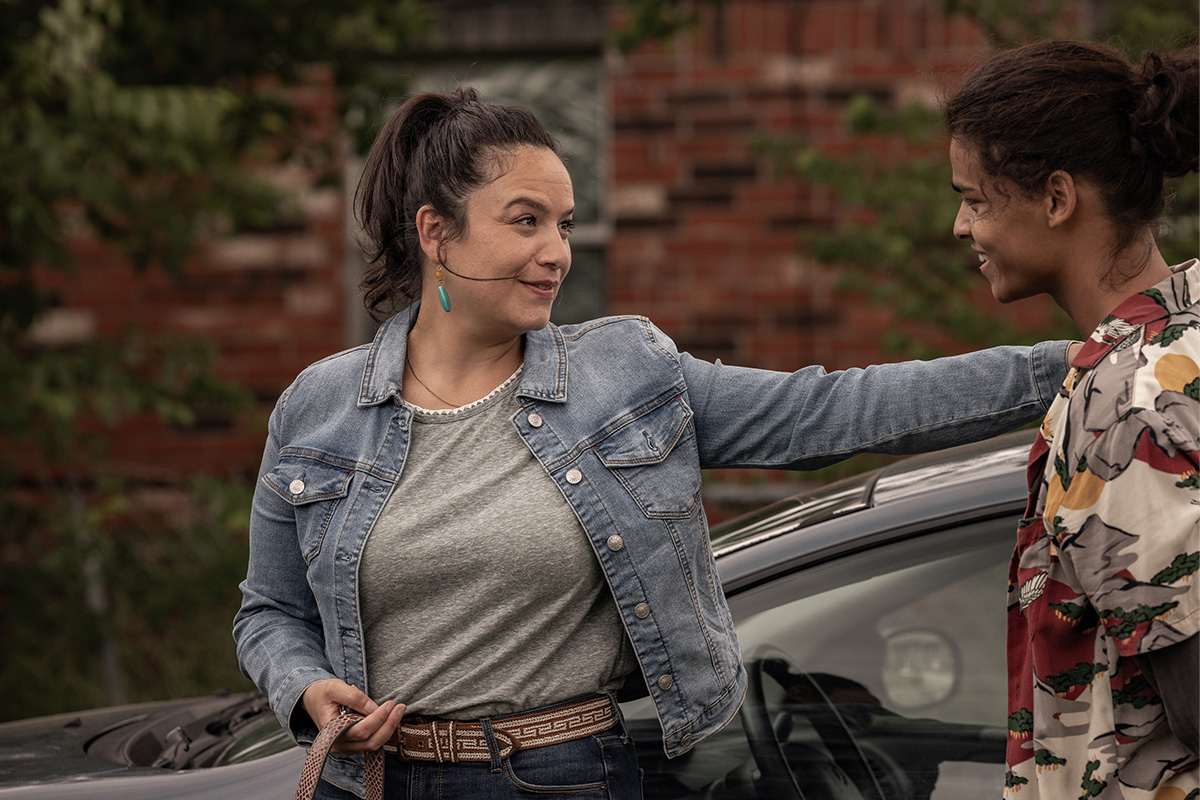 Sarah spoke Alma about what playing Rita means to her, explaining "Laughing through the tears and being able to see the bright side and see the humor in life, even when it's the darkest of times, is something that Jews and Native people are really good at."
33. "Bridgerton" captured our hearts in January, and no, actress Golda Rosheuvel is not Jewish, but "Bridgerton" the book was written by Jewish romance author Julia Quinn, so we're claiming this as a Jewish pop culture moment. We're now waiting for an adaptation of "The Couriers" by Nita Abrams, featuring Jewish characters in Regency England.
32. This year, history was made when the United State's first female vice president, Kamala Harris, took office, and with her came a few more firsts: the first second gentleman, and the first Jewish second spouse. Doug Emhoff has shared proudly of his Jewish heritage many times throughout his turn in the spotlight, but none were sweeter than in a tweet near Thanksgiving, when Emhoff shared that the moment he was most grateful for in 2021 was hanging a mezuzah in the VP residence.
31. In an exciting event that took home the Alma Award for Best Jewish Sports Moment, teenagers Jacob Steinmetz and Elie Kligman became the first two observant Orthodox Jews drafted into Major League Baseball. While there have been plenty of Jewish baseball players in the history of the MLB, drafting the first two Orthodox players is a momentous occasion. Not only is this a proud moment for the Jewish community, but it also holds two important reminders for everyone: No, not all Orthodox people look like how you imagine them, and yes, Jews are good at sports.
30. The third season of "Succession" has dominated the Sunday nights of fans in late 2021, but one particular episode had Jewish viewers wondering, "Wait, is that a giant mezuzah?" It was, indeed, a giant mezuzah, seen in the Hamptons mansion of Waystar investor Josh Aaronson, in a cameo appearance by Jewish actor Adrian Brody. The episode sparked a plot about Logan Roy's antisemitism — and also, there was shellfish.
29. Another major Netflix hit of 2021 was "Shadow and Bone," based on the fantasy series by Jewish author Leigh Bardugo. As A.R. Vishny wrote in Alma, the show is distinctly Jewish, though it may not appear so — the world is inspired by a time and place that looms large over Ashkenazi Jewish history.
Vishny explains, "What makes 'Shadow and Bone' such an accomplishment is the way it carefully balances historical metaphor and aesthetics. It does not revert to the tired tropes of what Jewish history can represent in a fantasy world, nor does it abandon that history because it is painful and inconvenient." (Plus it starred Jewish heartthrob Ben Barnes.)
28. Over the years there's been a lot of speculation about the religious affiliation of Kronk, the large, muscly henchman from "The Emperor's New Groove" and its sequel "Kronk's New Groove." Many had posited that Kronk might be Jewish, due to a dream sequence in "Kronk's New Groove" where he has a Jewish wedding. This past summer, Disney seemed to confirm Kronk's Jewishness by posting a carousel graphic to Instagram containing a recipe for "Kronk's Challah." Even though Kronk's challah recipe itself might be lacking, it was definitely fun to see Disney come out in support of Kronk's Jewish identity.
27. In a time when stand-up specials are a dime a dozen, Jewish comedian Jo Firestone's "Good Timing" cut through the noise. The hybrid docu-stand-up-special shows Jo teaching the final class of a stand-up comedy workshop for senior citizens and the subsequent show the class puts on. Sprinkled throughout, Jo interviews her students, a wonderful cast of characters including Helaine, who once sold material to Joan Rivers, Nicki, who is "very, very obsessed with the Holocaust" and thinks gender is "a terrible concept," and Lynne, who has an encyclopedic memory of jokes. In between the hilarious and refreshing jokes, "Good Timing" contains numerous, subtle Jewish Easter eggs, making it must-see TV.
26. Jewish actor and musician Ben Barnes had a huge year — including winning an Alma award for breakout TV actor — but this moment on our list is dedicated to Ben releasing his debut EP, "Songs for You." Ben told Alma, "This started through me singing covers of things on Instagram and those fans you mentioned, buoying me and encouraging me and bullying me into it, essentially."
25. Jewish music producer Jack Antonoff had another big year. With Taylor Swift, he worked on "Fearless (Taylor's Version)," "Red (Taylor's Version)" and won a Grammy for his work on "Folklore." He also collaborated with Lorde for "Solar Power," her third studio album. And, with his band Bleachers, he released "Take the Sadness Out of Saturday Night."
24. This past November, "Big Mouth," the Netflix animated show about puberty based on the childhoods of Nick Kroll and Andrew Goldberg, returned in all its hilarious, awkward teenage glory for season five. Previous seasons (see: season one, season two and season three) have been extremely Jewish, and season five is perhaps the most Jewish of all. As the kids deal with hormonal anger and meet some lovebugs, jokes about Hanukkah, shtetls, "Seinfeld" and a Baby Beanie Feldstein Beanie Baby abound. Do yourself a favor and watch it immediately!
23. Jewish basketball GOAT Sue Bird was the flag bearer for Team USA at the postponed Tokyo Olympics. In her fifth Olympic appearance, Bird and teammate Diana Taurasi made history: They won their fifth gold medal, the only basketball players — men's or women's — ever to achieve that feat. She became one of the most decorated Jewish athletes of all time. In addition to the five Olympic golds, she has played on four championship WNBA teams and is a 12-time WNBA All-Star.
22. "The French Dispatch" might be Wes Anderson's most Jewish film yet. Nowhere is that more clear that in the story of Moses Rosenthaler (Benicio Del Toro), "the son of a Mexican Jewish horse rancher," which could make him "Anderson's first clearly stated Jewish character."
He's also an imprisoned murderer, a brilliant artist (or at least the art dealers want to make people think so) and deeply in love with his prison guard (Léa Seydoux). We're here for it.
21. It was a historic Hanukkah this year — and not just because it was the second one to occur during a pandemic. This November saw the release of Sarah Aroeste's new album "Hánuka!" — which just happens to be the first-ever all Ladino Hanukkah album. The Sephardic artist told Kveller that the album attempted to bottle up the joy of Hanukkah, and we think it succeeded.
20. Through the years, "Saturday Night Live" has featured some of our favorite Jewish comedians like Andy Samberg, Maya Rudolph and Adam Sandler. And so naturally, we kvelled when we found out that Season 47 would feature someone who would surely become our latest Jewish fave: Sarah Sherman, aka Sarah Squirm, joined the cast. Sarah's debut on "Weekend Update" absolutely did not let us down.
19. At the Tokyo Olympics, Israeli gymnast Linoy Ashram became the first Israeli woman to win an Olympic gold medal, in any sport, when she eked out a victory by .15 of a point in individual rhythmic gymnastics. "I'm very proud of my country and I'm proud to represent my country in the best way that I can," Linoy told JTA.
18. We can't really put it better than we did in this headline: Can we just celebrate the fact that today's biggest movie star is a Jew? Timothée Chalamet may have cemented his status as the heartthrob of our time this year. It feels like he's been in everything: "Dune," "The French Dispatch," "Don't Look Up" and the new "Wonka" out in 2023. Don't ever stop, Timmy.
17. At the inauguration of President Joe Biden and Vice President Kamala Harris, the Jewish senator from Vermont, Bernie Sanders, showed up wearing a pair of knit mittens. They were knit by a Vermont teacher, in a very adorable backstory, and a photo of him sitting with his arms crossed soon went viral.
As Emily Burack wrote in Alma on the joy of the Bernie Sanders mittens memes, "As an Ashkenazi Jew with grandparents from Brooklyn, it's hard not to feel a kindred spirit in Bernie. And in a year — well, in the past four years, really — when we've dealt with a rise in antisemitism, the worst antisemitic attack in American history, and an emboldened faction of white supremacists, the undeniable grumpy Jewishness of Bernie offers a real sense of catharsis. As a Jewish writer and just, like, human being, the Bernie Sanders memes were exactly what I needed, exactly when I need them."
16. Desus & Mero have a bar mitzvah. "Let's go to a world of anxiety and genital mutilation! Come with me to Judaism!" For the first time in Jewish history, these words were spoken at the beginning of a b'nai mitzvah ceremony, all thanks to comedians Desus & Mero and Eric Andre. In an episode titled "AKA Harry Nugs," the non-Jewish comedy pair, also known as "The Bodega Boys," meet up with Andre, who self-identifies as "Blewish," for the purpose of becoming Bodega Men.
This entails visiting The Village Temple in New York City, learning about b'nai mitzvah ceremonies with Rabbi Diana Fersko and then a wild bar mitzvah party complete with Manischewitz, Yankees kippahs and cocaine. Mazels, Bodega Men!
15. Jewish musician ​​Alana Haim has expanded her (already huge) place in our cultural lives with a star turn in "Licorice Pizza," her first film performance which recently earned her a Golden Globe nom. (Are we surprised? No.) She plays a Jewish character named Alana, and that's not where the parallels to her real self, and the Jewishness, end: The movie, set in the San Fernando Valley in the '70s, features a Shabbat dinner, the threat of Barbra Streisand, Maya Rudolph and Benny Safdie, a reference to krav maga — and Alana's actual sisters and parents. Paul Thomas Anderson, the writer-director, also grew up in the Valley, and it turns out that Mama Haim was his art teacher in grade school. But though Valley geography may have helped Alana get the part — the Haim sisters' long-standing collaboration with Anderson began with bonding over their love of their hometown — her obvious talent carries it. She's funny, affecting and specific in every scene. What can't Alana Haim do?
14. If there's ever been a singular sporting competition that dispels the notion that Jews aren't athletic, it's the 2021 World Series. On the winning Atlanta Braves you had pearl-wearing, self-proclaimed "bad bitch" Joc Pederson, who had a memorable "Joctober," and ace pitcher Max Fried, who clinched Game 7 with six shut-out innings. In the Houston Astros dugout, you had Alex Bregman, who, despite a fairly cold World Series, is a past MLB All-Star and Garrett Stubbs, a back-up catcher who excitingly got to see some action in Game 7.
Excitingly, Game 7 of the World Series also contained the most Jewish play in perhaps all of MLB history. As our colleague at JTA Jacob Gurvis wrote, "In the bottom of the second inning, Astros star third baseman Alex Bregman stepped up to the plate and sliced Fried's second pitch to right field, where Braves outfielder Joc Pederson easily caught it for out number two. To most fans, the sequence was a mundane flyout with no significance. But to Jewish fans, the play showcased three Jewish players performing on the sport's biggest stage."
13. The long-awaited 11th season of "Curb Your Enthusiasm" returned this year, and while we didn't know this was possible, "Curb" somehow got even more Jewish. In the very first episode, we watch as Larry David gives actor Jon Hamm a lesson in Yiddish. From there the Jewish bits keep coming, from the appearance of a Jew for Jesus to Larry attending High Holiday services after losing a bet — only to run into a member of the KKK. As Larry says in that first episode, "Wow, you're really going Jewy here, aren't you?"
12. Jewish actor Paul Rudd was named People's Sexiest Man Alive for 2021, a win for Jews everywhere.
11. One could argue that the existence of "Dave," an FX comedy based on the life of Jewish rapper and comedian Dave Burd, was already a Jewish pop culture event. But the show took the Jewishness up a notch in its second season with a bar mitzvah episode. Lindsey Rabinowitz, who worked on set as the show's COVID monitor, wrote about how incredibly accurate the show's coming-of-age set was: "A dance floor was set up in front of the DJ booth and a bar for the parents was open for business. There was a big picture of the bar mitzvah boy, Jakey, wearing a replica of Dave's zoot suit from season one for all the guests to sign, along with a table for gifts, a box for envelopes, an over-the-top sweets table with the largest lollipops you've ever seen (that I got to try), and a DJ set up on the porch." There's a hora, there's a Hanukkah tie-in — plus, it was written and directed by Jews, which contributes to its authenticity. What more can you want?
10. We're in the top 10, and we're traveling across the pond — to when Eden Alene represented Israel at the 2021 Eurovision song competition, making it into the finals in Rotterdam. Born in Jerusalem to Jewish parents born in Ethiopia, Eden's selection marked the first time an Ethiopian Jew competed for Israel at Eurovision. Eden said, "It is an insane honor to represent my country. It is amazing that an Ethiopian is doing it for the first time. Think about where we were when the Ethiopians first started making aliyah and look at where we are now. It's a whole new world."
9. Jürgen Krauss should have won "The Great British Baking Show" this year. But that's neither here nor there, because his Passover pavlova was a work of art. In episode four, Jürgen made a charoset-and-matzah-topped pavlova, showing innovation and creating a kosher for Passover dessert that seemed actually delicious. Jürgen's wife and son are Jewish, and he's incredibly supportive of his family.
Jürgen won in our hearts, tbh. (Also, Jürgen, drop the recipe!!)
8. The latest installation of "American Crime Story" brought us some well-trodden territory — Bill Clinton's sex scandal and subsequent impeachment — through the lens of the one person who's perspective has been sorely missing from the whole affair: Monica Lewinsky. Serving as one of the show's executive producers, Lewinsky ensured that, after decades of her story being mishandled, appropriated, satirized and invalidated, her truth was brought to light. And, while Lewinsky's Jewish heritage didn't make for much serious fodder in the show, as Jane Godiner wrote in Alma, "Lewinsky's self-portrayal, and, specifically, her recovery, is an unmistakably Jewish one."
Also unmistakably Jewish was the actress who portrayed her, Beanie Feldstein. The role was one of many for Feldstein in a year that fully launched her into a bonafide star of TV, movies and stage. It's been an incredibly exciting time for Jewish fans of Feldstein in particular — as Alma editor Molly Tolsky wrote, "More than any big break or award she'll inevitably win, I think what makes me happiest about watching the rise of Beanie is seeing her remain unapologetically herself. She will drop Yiddishisms in interviews. She will kindly remind you to stop talking about her body. She will open up about her grief, her sexuality, and the fact that she does not know Lea Michele whatsoever."
7. Season two of the heartwarming comedy "Ted Lasso" aired this year, and we need to give a special shoutout to Jewish actors Brett Goldstein (Roy Kent) and Moe Jeudy-Lamour (Thierry Zoreaux). But this particular moment is dedicated to Goldstein's Emmy win for his portrayal of the gruff Roy.
Just watch his acceptance speech:
We love to see Jews winning!!
6. We've been obsessed with Black Jewish rapper-singer Doja Cat ever since she went viral with "Mooo!" Doja released "Planet Her," her third studio album, this year, and it's full of absolute bops. She received eight Grammy noms for "Planet Her," including Album of the Year and Record of the Year.
Doja Cat is maybe our weirdest Jewish celebrity in the best way possible, and we love her so much. (And her TikTok.)
5. Bar and bat mitzvahs have graced both small and large screens for decades now, offering a glimpse into this time-honored Jewish tradition — to varying success. But this year, the last season of "Pen15" brought us one of the best bat mitzvah episodes of all time, aptly titled "Bat Mitzvah." Focused on the bat mitzvah of seventh grader Becca Roth, classmate to protagonists Anna and Maya, the episode is filled with so many ridiculously on-point details of a very specific brand of over-the-top American bat mitzvah party, you know the writers must have been to their fair share of 2000s-era bashes themselves.
But what makes this episode an actually incredible moment of authentic Jewish representation on TV, and not just a fun walk down strobe light lane, is the focus given to the service itself — with parental aliyahs, rabbis blowing their noses and a bat mitzvah girl who takes her Torah chanting duties way too seriously. A joyous occasion indeed.
4. The 41st season of "Survivor" was its most Jewish season yet. There were four Jewish castaways, and the four of them represented the many diverse faces of American Jews today. Here are Tiffany, Evvie and Liana — all of whom made it to the merge (a big deal in "Survivor"):
Tiffany Seely, Evvie Jagoda and Liana Wallace, three Jewish tribemates on "Survivor" (Robert Voets/CBS Entertainment 2021 CBS Broadcasting, Inc.)
But we have a special place in our hearts for Tiffany Seely, a Jewish mom from Long Island, and her one Jewish phrase that meant so much for Jewish representation on TV. When Tiffany is part of a team that loses a challenge, they receive rice as a consolation prize. That's when Tiff scoops a spoonful and lets out: "Baruch Hashem."
Twitter immediately went bananas over her "Baruch Hashem," which means "thank God," and this casual moment of Jewishness on one of the most popular reality TV competitions out there. Tiffany tweeted, "Thank you all for your kind words. This is just one of many beautiful messages. It's important to have people feel seen." Baruch Hashem for representation!
3. One of the most delightful newcomers to the TV scene this year was HBO Max's "Hacks," a comedy-drama about a legendary comedy diva (Jean Smart) and the 25-year-old "cancelled" writer who gets shuffled off to Las Vegas to liven up her set. That 25-year-old is played by Hannah Einbinder, the mega-talented Jewish actress whose breakout performance scored her an Emmy nomination (one of 15 the show racked up).
In "Hacks," Einbinder exudes the perfect Gen Z elixir: cocky, oversharing, scorned bisexual vibes with a healthy dose of self-resentment and pluck. In real life, she's equally charming if not decidedly more anxious and, to our great pleasure, Jewish. In an interview with Alma, she connects those dots, saying, "I think there is something to the idea that everything can be taken away from you, just like that — which feeds into the idea that, in a self-loathing area of consciousness, everything should be taken away from you." She also shared amazing details from her awards show-themed bat mitzvah and thoughtful reflections on her "incredibly inclusive and cool and queer and diverse" Jewish upbringing. It's an upbringing that set her up for success, and we can't wait to see what she does next.
2. The decision to cast Jewish actor Andrew Garfield as Jewish writer Jonathan Larson in "Tick, Tick… Boom!" was truly inspired. Garfield's portrayal of Larson is, simply, incredible, and deserving of our #2 best moment in Jewish pop culture for the year.
As A.R. Vishny wrote in Alma, "Tick, Tick… Boom!" doesn't erase the Jewishness of Jonathan Larson's story. She explains, "Choosing to cast Jews and preserve Jewish details on screen similarly achieves this sense of authenticity. This film takes the position that in order to render the most authentic portrait of Larson possible, all the details matter. The specifics of his identity and the people he was surrounded by matter as much as the sets and costumes. Miranda, who has not shied away from allowing his life and identity to inform his work and public persona, recognizes that Larson was not transcending his background to write something with wide appeal. Rather, that context is where the work emerges from, and is therefore essential to the story."
Garfield as Larson brought him to life, and we'll be thinking about this film for years to come.
1. And that brings us to #1, which you could probably have guessed based on the sheer number of articles it generated: Netflix's "My Unorthodox Life." The docu-soap about Julia Haart, an extremely wealthy formerly ultra-Orthodox Jew, and her family takes the top spot in part because the discourse around it was so… intense. As Sarah Rosen wrote in an Alma interview with Julia's daughter Batsheva, "If you are a Jew and you have the internet, chances are you've heard of 'My Unorthodox Life.'"
This wasn't just true of the Jewish community. "My Unorthodox Life" is 2021's biggest Jewish pop culture moment because, in addition to sparking lots of conversation in the Jewish sphere, it also brought discussions of Judaism into the mainstream — in a controversial way. In the weeks after it was released this summer, the show was both ubiquitous and polarizing. Some felt seen by its portrayal of varied relationships to Orthodoxy; others were upset that the show "[oversimplified] Orthodox people and communities, painting wide swaths of a complex culture with the same shallow brush" and worried that it was "fodder for antisemitism."
In her Alma interview, Batsheva Haart stood behind the portrayals offered by the show. Of her mother, she said, "She's there sharing her experience. There are other people who have lived the same way, but she's not saying that everyone has a bad experience. But she wants to let people know that there are other ways. The way we were brought up was like, This is the only good way to live. I think Judaism is a beautiful religion. We preach to everyone that you shouldn't judge people. I think she made it very clear that this isn't a blanket statement about everyone. This is for the people who are struggling, to show them that there are other things out there. My brother and I are still religious and she's not trying to convince us not to live the way we want to live our lives… I encourage people to watch the full series, and hopefully get inspiration there that women are powerful and that they can have something for themselves as well."
Here's to 2022.