The spread of coronavirus is going to cause many small businesses to take a big hit, so we want to do our part by supporting as many Jewish artists as possible.
Of course, if you're struggling yourself, no need to feel at all guilty about focusing on just what you need to get by. But if you have some money to spare, take a look at these shops for some great Jewish jewelry, clothing, and more. (If you're just looking for Passover items, head over here.)
Jump Ahead: Jewelry | Judaica | Clothing & Other Stuff | Prints & Stickers
Jewelry
Ariel Tidhar, very Jewish jewelry designer. In an interview with Alma, Ariel said, "I really just hope that all my customers feel so proud about being Jewish."
Shop Ariel Tidhar here. Use ATFRIEND at checkout for free domestic shipping on orders over $40.
Meydalle, Hebrew-inscribed jewelry & more from Tel Aviv.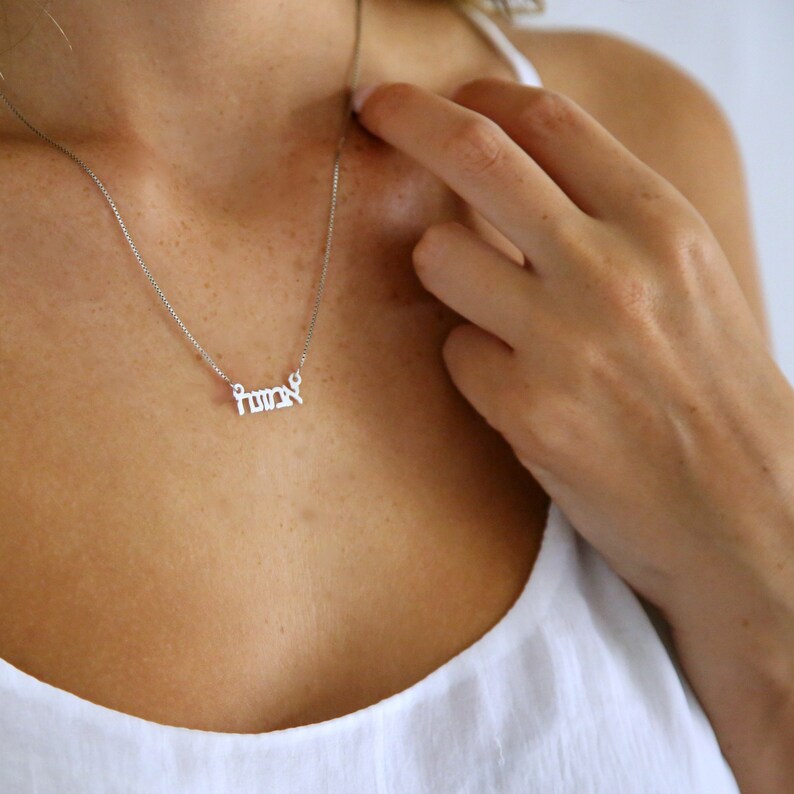 Sarah Day Arts (she's also below, under prints!) makes very fun earrings and necklaces.
Grey Theory Mill has wonderful hand-stamped jewelry. We need these OY VEY earrings very badly:
VALAY on Etsy has gorgeous delicate Chai jewelry, evil eye jewelry, and more.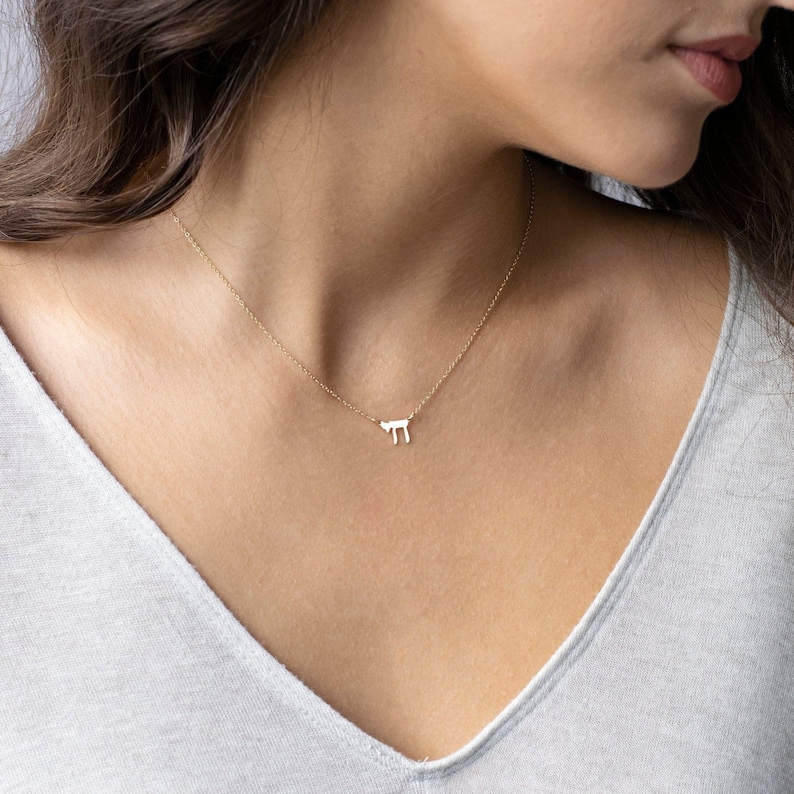 ByYaeli is minimalist jewelry with a bunch of Jewish imagery. Currently the store has 20% off everything.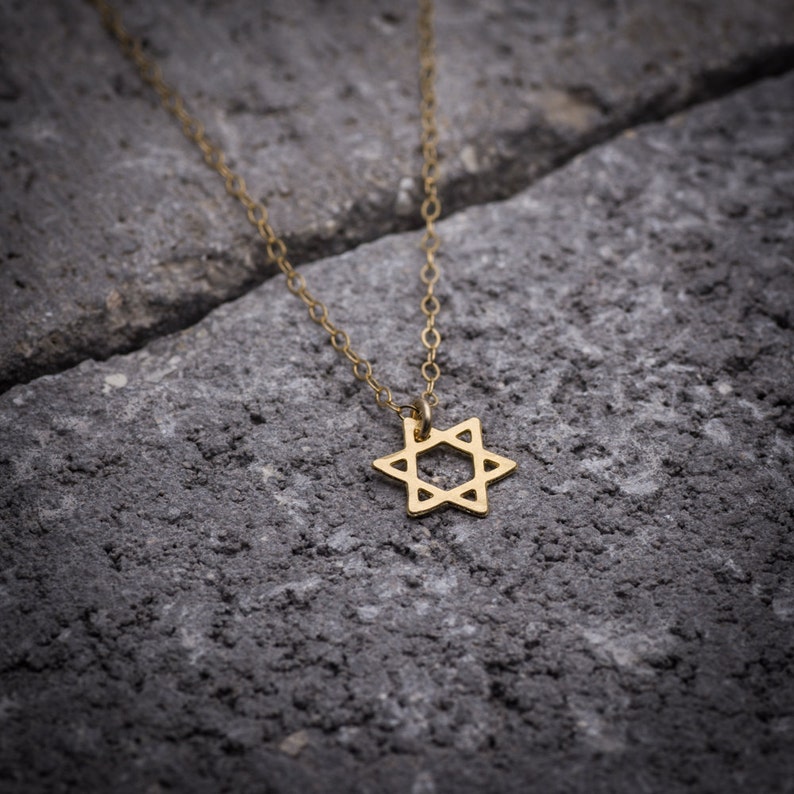 Looking for more? Here's a round-up of hamsa jewelry, if that's your thing. And here's a bunch of Jewish star necklaces.
Judaica
Eclectic Judaica is exactly what it sounds like: eclectic Judaica. I mean, Why not buy this RBG menorah right now!?
Shop Eclectic Judaica on Etsy.
Meredith Gould Arts makes mixed media hamsas and mezzuzahs, among other Judaica items, and noted on her Etsy page she is, "Still fulfilling orders! Washing my hands. Making art. Going to the post office. Washing my hands." Love the update, Meredith.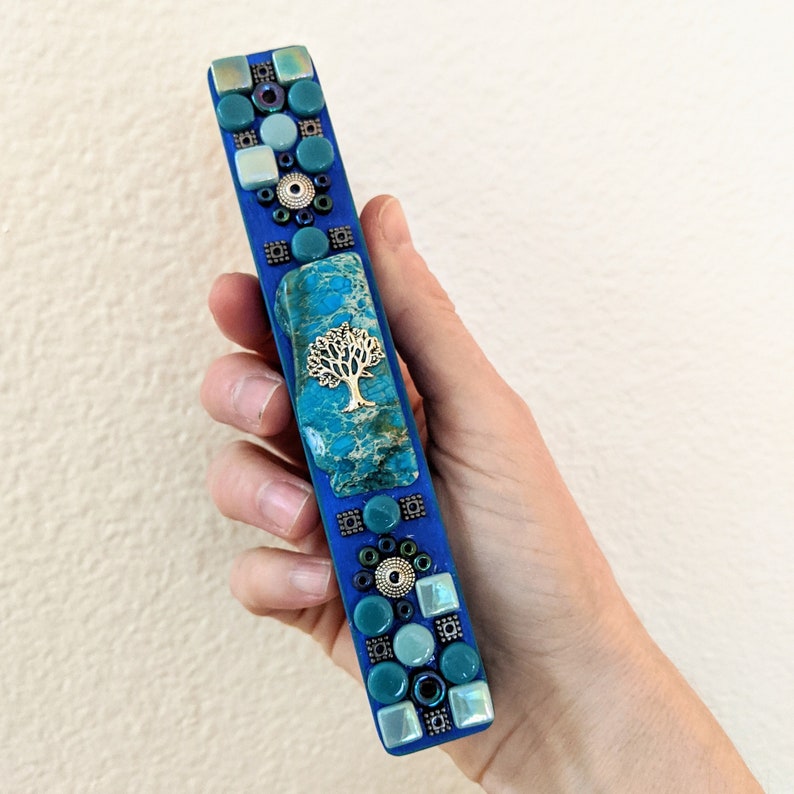 Shop Meredith Gould Arts on Etsy.
And here's a bunch more mezzuzahs.
Dinosaur Menorah is a shop on Etsy that sells… you guessed it… a dinosaur menorah.
Get the dinosaur menorah on Etsy.
Piece of Heart Judaica sells Jewish wall art from Tel Aviv. Looking to decorate your apartment with some Jewish art? These are all digital downloads, so it's immediate satisfaction (if you have a printer).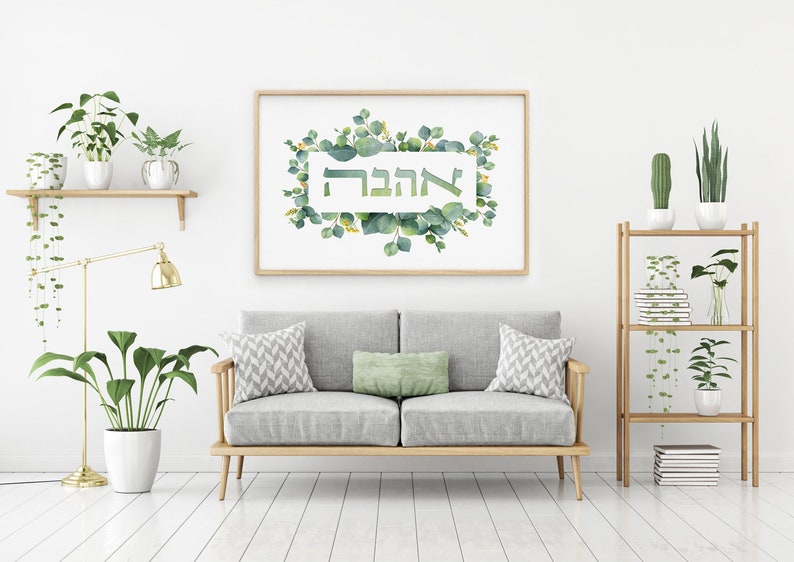 Shop PieceofHeartJudaica on Etsy.
Clothing & Other Stuff
Maimonides Nutz's (of Twitter fame) has a Teespring shop featuring everything from "Toe-rah" socks to a bird wearing a kippah. We need it allll.
Schmattes, Jewish humor on apparel, combines "Jewish culture and rituals, Yiddish expressions, cool graphic designs and current meme-linguistics."
Chai Tide Apparel also has lots of great Jewish apparel, like a shirt that says "Spread Hummus Not Hate" and "Good Things Come to Those With Chutzpah." (Amen and Amen.)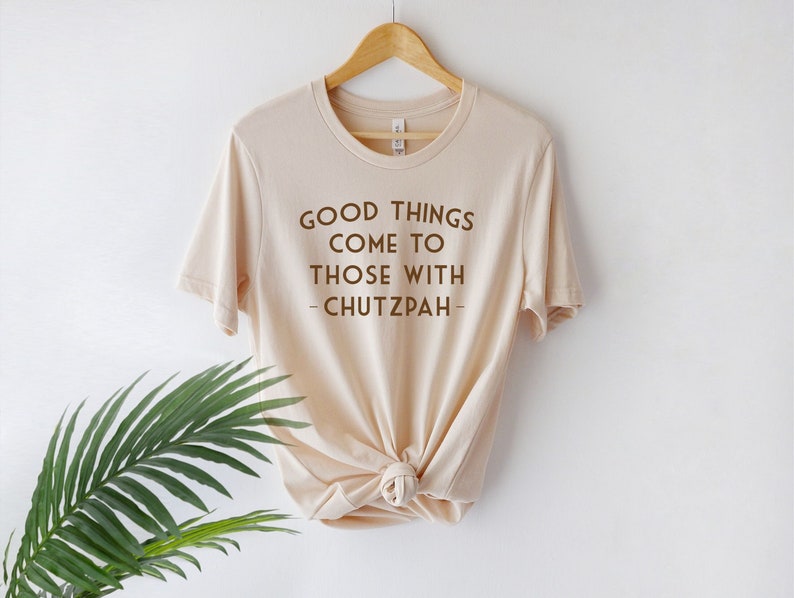 Shop Chai Tide Apparel on Etsy.
Prints & Stickers
Tyler Feder illustrations are sold as prints or digital downloads (which means you get them immediately! Love instant gratification). Here is the food of Schitt's Creek, a print we need ASAP: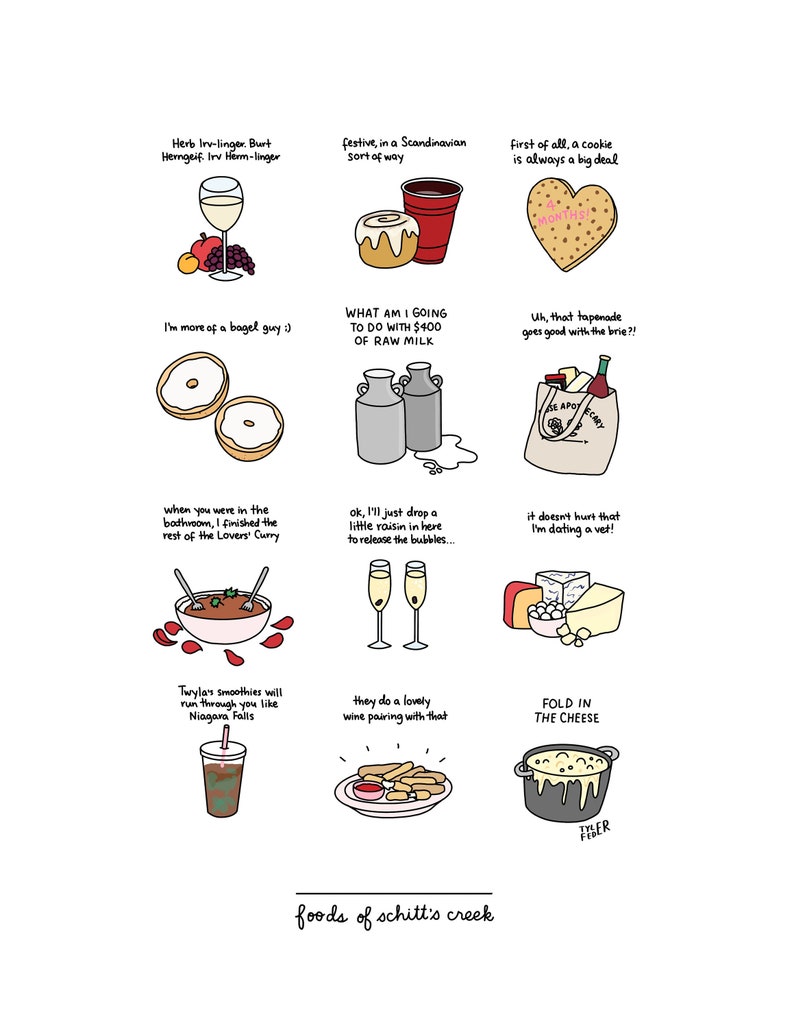 Laura Supnik, an illustrator that was suggested to us by our Instagram followers. She has everything from greeting cards to stickers to tote bags to prints, and they're delightful.
Sarah Day Arts, again! She does custom drawings and sells prints & stickers from her shop.